Posted: May 10, 2011 |
Author:
Lalli
|
Filed under:
Baseball
|
Tags:
1950s
|
1 Comment »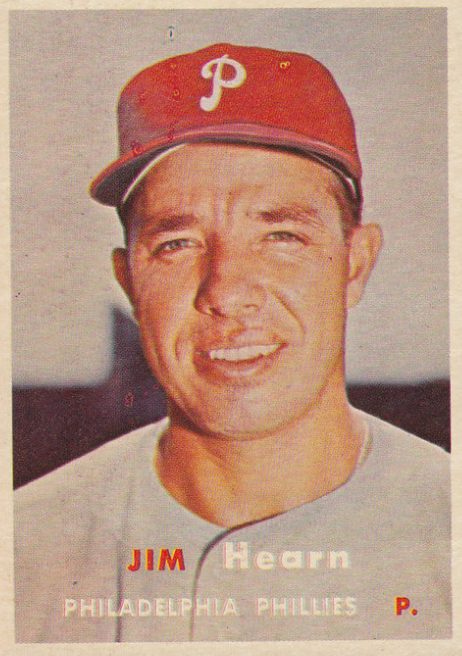 A relief pitcher losing a game is one thing, but a retired pitcher being charged with a loss is something completely different; and that is exactly what happened to Phillies Pitcher Jim Hearn on May 10th, 1959.
On that day, the Phillies faced the Pittsburgh Pirates at Forbes Field in Pittsburgh in a doubleheader.  After winning the first set by a score of 6-3, the Phils started the second game  with Ray Semproch at the mound.  The Phillies had a 4-1 lead until the bottom of the sixth when Semproch gave up a game-tying, pinch-hit 3 run HR to Smoky Burgess.  "Big Jim" Hearn was called into relieve Semproch with the score knotted at 4 and got out of the inning without further damage.  The Phils went scoreless in the top of the 7th.  In the bottom half of the inning, Hearn gave up an RBI double to Burgess.  Hearn was pulled after the double, but he was charged with another run before the 7th inning ended.  All told, Hearn pitched 1.1 innings and gave up 2 earned runs along with the lead.
Entering the 8th, the Phillies were down 6-4 and were blanked in the top half of the inning.  With 2 outs in the bottom of the 8th, the umpire suspended the game.  It wasn't suspended due to weather, or darkness, or anything like that…it was suspended because of religion.  Pennsylvania's blue-law curfew (in effect in some form since 1794) prohibited baseball after 6pm on Sundays.
The game was rescheduled for July 21, 1959, the next time the Phils and Pirates were slated to meet.  Unfortunately for Hearn, the Phillies released the 38-year-old pitcher on May 22, resulting in his retirement.  When the game finally resumed in late July, the Phillies never regained the lead and ultimately lost by a score of 7-6.  Retired or not, Hearn was still the pitcher of record and was saddled with the loss, a clear 2 months after his baseball career ended.
---
Posted: May 8, 2011 |
Author:
Johnny Goodtimes
|
Filed under:
Baseball
|
Tags:
1950s
,
Del Ennis
|
6 Comments »
Saturday night, when Ryan Howard moved into 2nd on the Phillies all time HR list by passing Del Ennis, I'm sure most young people said, "Who?" while most old timers thought, "Oh yeah, that guy we used to boo." Del Ennis's treatment at the hands of Philadelphia fans has never quite made sense, other than the fact that this city has always had a very strange relationship with its power hitters. The city never warmed to Mike Schmidt, jeered Richie Allen, and booed Pat Burrell. Even so, the city's treatment of Ennis is particularly hard to understand, because he was a hometown kid who made good.
After Saturday's game, Howard was given a note from Liz Ennis, Del's widow, congratulating him on his feat. Howard handled it classily, but it made you wonder if he even knew who Ennis was. If not, he wouldn't be alone. Ennis is the guy whose name is in the Top 10 of pretty much every Phillie career category, and yet every time I stumble across Phils career stats, I find myself thinking, "Who in the hell is this Ennis guy?" Well after last night, I figured it was time to find out.
Ennis was born in North Philly in 1925. He was signed by the Phils out of high school but instead went into the Navy, where he fought in the Pacific Theater. After the War, he joined the Phils and made an immediate impact, batting .313 with 17 HRs and 73 RBIs. The left fielder was also known to have a cannon of an arm, and was named the Sporting News Rookie of the Year. In 1950, he propelled the Whiz Kids to the World Series with a remarkable season in which his numbers were .311-31-126, the latter of which led baseball. And yet despite being Philly's first bonified batting star since Chuck Klein, he was routinely booed by Philly fans. In 2003, Frank Fitzpatrick wrote an excellent piece called, "Why Did They Boo Del Ennis?"
Talk to aging Phillies fans and they all seem to have a different reason: Ennis was a clumsy outfielder; Ennis struck out too often (though his season high was 65); Ennis didn't hit in the clutch (though he drove in 100 runs in each of six seasons between 1949 and 1955 – excluding 1951 – in an era of relatively subdued offense); Ennis didn't hustle.
"Del lumbered in from the outfield. He wasn't dashing like Richie Ashburn," said Phillies scout Maje McDonnell, a coach with the team in the 1950s. "But he bore down every play, every day. On balls hit back to the pitcher, he ran harder than anyone I've ever seen. I saw him drive second basemen into center field breaking up double plays. He hustled all the time."
And so not only was it classy of his wife to send the note to Howard, it was remarkable that she still pays attention to the Phillies. In the Fitzpatrick article, it is obvious that the pain of Del's treatment is still with her.
"The booing was hurtful to him. It really was," said Liz Ennis, surrounded by a basement full of photos, newspaper clippings and memorabilia from her husband's playing days. "Every time he was interviewed, the very first question everybody would ask is, 'Why did the fans boo you like they did?'
"He always said that as long as they paid money to get into the ballpark, they were entitled to boo. But the fact of the matter was, he didn't understand it. He really didn't understand it. And I don't either."
Incredibly, only one player over the 9 year period from 1948-1957 had more RBIs than Ennis. That would be Stan Musial, who is a demi-God in St. Louis. Ennis, meanwhile, has all but been forgotten in the town he not only played in, but was born in. The more I read about him, the only thing that makes sense is the Bobby Abreu charge…that he didn't hustle in the field. Even if so (and he was known to be a slow runner), he more than made up for it with his rifle arm, as he recorded 14 or more assists 5 different seasons (To put that in perspective, the Phils current left fielder, Raul Ibanez, has a grand total of 14 assists since joining the Phillies in 2009.)
Ennis is not only one of the greatest Phillies of all time (Phillies Nation has him ranked 16th), I think that he may very well be the most underrated Phillie in the history of the team. 3rd in Home Runs, 3rd in RBIs, 4th in hits, 3rd in total bases, 7th in doubles, 5th in games played, 9th in runs scored, the list goes on and on. Del, for what it's worth, we here at Philly Sports History tip our cap to you.
---
Posted: May 6, 2011 |
Author:
Johnny Goodtimes
|
Filed under:
Baseball
|
Tags:
1950s
,
Bobo Holloman
,
no-hitter
,
One hit wonder
,
Philadelphia A's
,
St. Louis Browns
|
Leave a comment »
I was thrilled when I realized that Bobo Holloman's May 6th, 1953 no-hitter came against the Philadelphia A's, because it meant I'd have an excuse to write about it. I have always found it to be one of the quirkiest, strangest anomalies in baseball history: a 29 year old rookie becomes the only man to ever throw a no-hitter in his first major league start, then is out of the league less than three months later, never to return. Here's how it happened.
Following World War II, young Alva Lee "Bobo" Holloman decided to try his hand at baseball. After 7 years of bouncing around the minors, he finally got his call to the Show. He threw a few innings of relief for the St. Louis Browns, and after a few weeks nagged manager Marty Marion into letting him start a game. On May 6th, he got his wish, as the Browns were taking on the Philadelphia A's in a remarkably forgettable match-up; the A's would finish the season 41.5 games out of first, the Browns 46.5 games out of first. St. Louis would move to Baltimore at the end of the season. The A's would move to Kansas City after the 1954 season. Furthermore, the weather was lousy that night. Therefore a mere 2,473 fans ventured out to old Sportsman's Park. Browns' owner Bill Veeck described Bobo's no-no:
Everything he threw up was belted and everywhere the ball went, there was a Brownie there to catch it. It was such a hot and humid heavy night that long fly balls that seemed to be heading out of the park would die and be caught against the fence. Just as Bobo looked as if he was tiring, a shower would sweep across the field, delaying the game long enough for him to get a rest. Allie Clark hit one into the left field stands that curved foul at the last second. A bunt just rolled foul on the last spin. Our fielding was superb. The game went into the final innings and nobody had got a base hit off Big Bobo. On the final out of the eighth inning, Billy Hunter made an impossibe diving stop on a ground ball behind second base and an even more impossible throw. With two out in the ninth, a ground ball was rifled down the first base line — right at our first baseman, Vic Wertz. Big Bobo had pitched the quaintest no-hitter in the history of the game.
And Holloman wasn't only the pitching star that night. He had also 2 hits and 3 RBIs. Remarkably, they would be the only hits and RBIs of his career. He would pitch erratically over the next two months, recording 2 more wins but 7 losses, and in late July he was sold to a minor league team named the Toronto Maple Leafs (pretty original, eh?). He failed to regain his form, played for 5 minor league teams, and by the end of 1954, he was through with baseball. He went to work driving a truck and later started an advertising firm.
His career numbers are as pedestrian as you can get: 3-7, with a 5.23 ERA. But his legacy endures. Why? Because he is still considered the only MLB pitcher to throw a no-hitter in his first start (a couple of pitchers did it in the 1890s before the mound was moved back to its current 60'6″). Only one pitcher has come close since. In 1967, Red Sox pitcher Billy Rohr of the Boston Red Sox had  a no-hitter with two outs in the 9th, but Elston Howard singled to spoil his bid. And we'll end with a trivia question: what current Major Leaguer threw a no-hitter in his 2nd start, in 2007?
---