Flyers Goalie Masks: the best and worst
Posted:
April 19, 2011 |
Author:
Lalli
|
Filed under:
Hockey
|
13 Comments »
Although the Flyers 2011 playoff run is still in its infancy, there isn't a shortage of story lines.  You've got Danny Briere going up against his former team; you've got JVR playing in beast-mode; you've got Boosh taking over for Bob; and you've got Prongs day-to-day with a broken (maybe twice) hand.  Then there's the goalie mask.  Yep, the goalie mask.
Both Flyers goaltenders have had mask issues.  Sergei Bobrovsky thought he'd try on a new mask for size before entering the playoffs.  He changed his paint scheme and went with Rocky IV on one side and Sideline, I mean, Sideshow Bob on the other.  The move hasn't really worked out for him as he was pulled in Game Two and was a healthy scratch in Game Three.  And then last night, the goalie mask proved important as well.  During a frenetic 5 on 3 PK with the puck in our zone, Boosh knocked his mask off his head to stop play because it "became loose."  I'm not sure the Buffalo faithful believe him.
I've always been a fan of the goalie mask.  In most sports, you are fined for the most trivial deviation from the team uniform.  The paint scheme on a goalie mask is that rule's biggest exception, making it the best outlet in sports for a player to show off some personal flair.  With the goalie mask being a story in the playoffs so far, and this being a sports history site we thought we'd take a look at goalie masks throughout Flyers history.  (Note: I'm still waiting for a Flyers goalie to use a Clockwork Orange styled design around one eye-hole. Please, please, please.)  Without further adieu, let's take a look at some of the memorable masks donned by Flyer goaltenders over the years:
The Good
#10: Kicking off the top ten is Pete Peeters going blackface long before Ted Danson.
#9: Michel Larocque played only 2 games for the Flyers and gave up 8 goals.  However, the nickname "Bunny" on his mask is good enough to overcome a 4.00 GAA.
The Top 8 masks can be seen after the jump.
#8: I've always had a soft spot for Garth Snow.  It might be from the time that asshole Matthew Barnaby played opossum and jumped Snow from behind during a brawl, or it might be that his mask featured the Abominable Snow-Man.
#7: Ray Emery's homage to the goaltenders of Flyers history (Bernie, Pelle, Hexy, et al.).
#6: Antero Niittymaki's bad-ass mask featured gangster Frank Nittoni, who shared Nitty's nickname.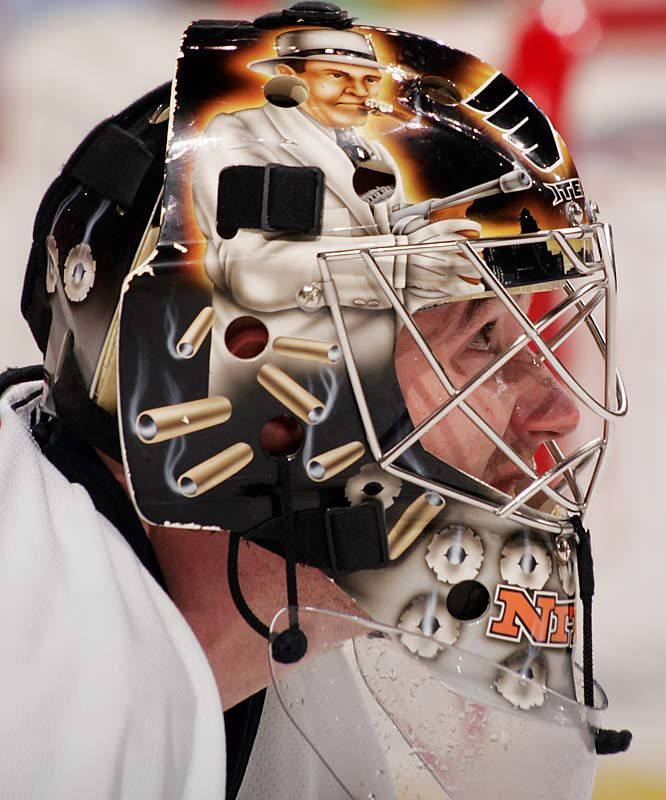 #5: A classic Hextall mask, which incorporated the team colors and logo flawlessly.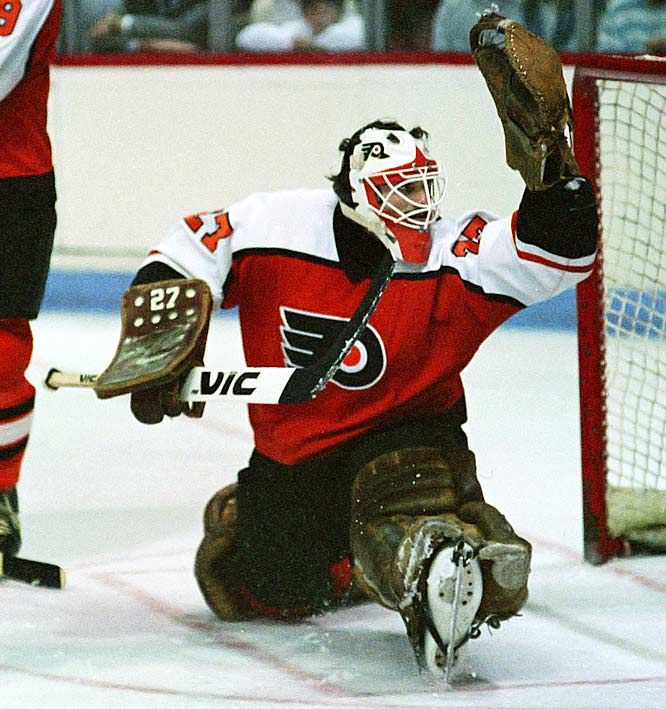 #4: Michel Belhumeur gets points for only caring about his face.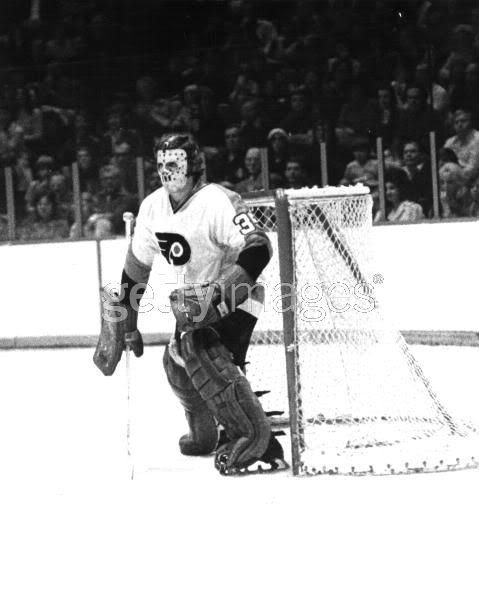 #3: Although newer and nearly unused, Leighton's tribute to the Broad Street Bullies makes the top 3.
#2: Wayne Stephenson's Spiderman look is a close second in my book.
#1: Bernie with a simple design, but he's Bernie and he can't be ranked anywhere else on any list having anything to do with Flyer goaltenders.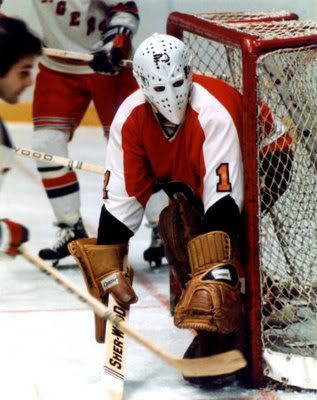 The Not so Good
#5: One of Hextall's masks, which featured various Philadelphia landmarks.  Great idea; painfully bad execution.

#4: Doug Favells masks make him look like a cross between Hannibal Lecter and Jason Vorhees, had they really loved the color orange.
#3: Robert Esche's mask had a rock star theme, which featured Johnny Cash and Waylon Jennings.  Not bad.  But it also included Kid Rock.  Not good.
#2: Martin Biron's mask, with cartoon lumberjacks and the coat of arms of Quebec.  C'mon Marty.
#1: And the worst mask in team history was worn by John Vanbiesbrouck.  The Beezer's mask looks like it appeared on "Pimp My Ride."  It's got sparkles, a chromed out Flyers logo and hydraulics.

Agree? Disagree?
Let us know.
---