Mike Schmidt joins the 500 HR Club
Posted:
April 19, 2011 |
Author:
Lalli
|
Filed under:
Baseball
|
Tags:
1980s
,
Don Robinson
,
Harry Kalas
,
Mike Schmidt
,
Phillies
|
Leave a comment »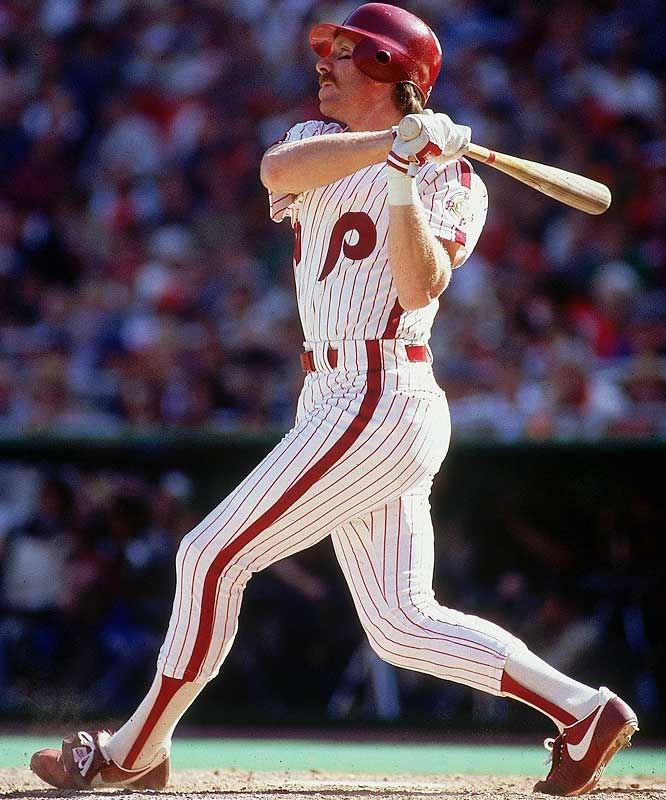 On April 18, 1987, the 2-8 Phillies were at Three Rivers Stadium facing the Pirates and found themselves down 6-5 in the 9th inning after blowing a 5-0 lead.  With 2 on and 2 outs, Mike Schmidt stepped to the plate against Don "Caveman" Robinson and made history:

Not only did Michael Jack belt his 500th HR on this day in 1987, but he did so with two outs in the 9th inning and the game on the line.  Always a competitor, accomplishing a milestone to win a game was the way Schmidt wanted it to be.  As he was getting closer and closer to 500, he stressed that he wanted it to come at a time to help his teammates…and his timing couldn't have been better.
After the home run, Schmidt was jumped at the plate by his teammates.  And according to Jayson Stark, then Inquirer staff reporter, the scene in the clubhouse was more memorable than the celebration on the field:
They gathered around the tiny tape recorder in the locker room, hoping to relive the moment one more time.
"Hey, we want to hear how Harry (Kalas) called it," Chris James yelled to broadcaster Chris Wheeler.  So Wheeler slipped the tape into the recorder. James and every Phillies player in the locker room gathered around him.
Mike Schmidt was about to hit his 500th homer. Again.
He was about to rescue the Phillies' day and rescue the Phillies' season. Again.
"Swing and a long drive," Kalas roared in a voice so loud, you might have heard him in King of Prussia whether you had a radio or not. "There it is. No. 500. Career 500th home run for Michael Jack Schmidt. . ."
The clubhouse shook with cheers. Again.
"Gee," Schmidt deadpanned after listening to the tape one more time, "I thought he'd show a little emotion."
Everyone in the room broke up. It had been a great day in the life of the '87 Phillies, thanks to Mr. Mike Schmidt.
That's a scene I'm sure Schmidt, as well as anyone else lucky enough to be in that room, will never forget.
As an aside, it was fitting that Schmidt's 500th HR came off a Don Robinson pitch.  Robinson was one of the best hitting pitchers of his time and ended up with 13 home runs in his career and three Silver Slugger awards.
Schmidt was the 14th player in baseball history to join the 500 Home Run Club and his career total 548 HRs stands 15th in league history.  He's the only Phillie to reach the 500 HR plateau; that is, until Ryan Howard joins him.  Hopefully Howard's 500th comes at a time as opportune as Schmidt's.
---