Art Mahaffey: Better than a Robot any day.
Posted:
April 20, 2011 |
Author:
Lalli
|
Filed under:
Baseball
|
Tags:
1960s
|
1 Comment »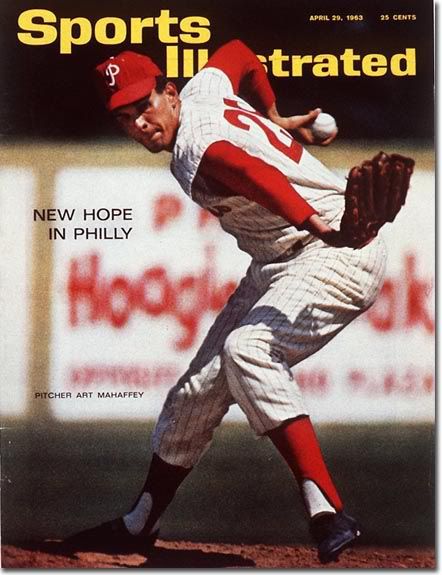 Before the Phils' 4-3 win over the visiting Brewers today, there were two ceremonial first pitches.  The first was thrown by a robot from UPenn's GRASP (General Robotics, Automation, Sensing and Perception) Lab as part of Science Day.  Sadly, it wasn't a success.  The robot didn't reach the plate, and instead bounced a weakly thrown ball to the Phillie Phanatic; sparking a smattering of boos.  (By the way, couldn't they have just gotten a pitching machine to do the same thing???).
The second pitch, hurled by a human was a strike.  Art Mahaffey, former Phillies pitcher and current Allentown resident, was invited to throw out the ceremonial first (or second) pitch today to celebrate the 50th anniversary of his 17 strikeout performance against the Chicago Cubs.  On April 23, 1961, Mahaffey started the second game of a double-header and walked off the mound after nine innings with the franchise record for strikeouts in a game; a record that still stands.
Pitching a complete game, he allowed 4 hits and walked one, in addition to his 17 Ks, in a 6-0 win over the Cubs.  Mahaffey did most of his damage against the meat of the Cubs order.  He struck out the 2 through 6 hitters a total of 14 times.  And these guys were no slouches:  Don Zimmer, 3Ks; Bob Will, 2Ks; Ron Santo, 3Ks; Ernie Banks, 3Ks; Frank Thomas, 3Ks.
In 1961, he finished 11-19 and led the National League in losses, but was still tagged as an NL All-Star.  His 17 strikeout performance and the fact that the Phils were a bad team (47-107) probably factored into a 7-9 pitcher being named an All-Star.
Career-wise, Mahaffey pitched six seasons for the Phillies winning 58 and losing 60 and averaging 5.8 Ks per 9 innings.  He pitched another year with the Cardinals, appearing in just 12 games.  His career was shortened by a rotator-cuff injury, but not before he made his mark on the Phillies franchise.
Now, Mahaffey is known for two things: (1) holding the Phillies record for strikeouts in a game, and (2) being the first 73-year-old man to embarrass a UPenn robot in a pitching duel.  Score two for Art.
---