Flyers Set New Team Record
Posted:
May 5, 2011 |
Author:
Lalli
|
Filed under:
Hockey
|
Tags:
1980s
,
Pelle Lindbergh
,
Wayne Gretzky
|
Leave a comment »
If you tuned into Versus for Game 3 of he Flyers/Bruins series last night a couple minutes late, you missed a new team record…and not the good kind of team record.  Just 30 seconds into the game, Zdeno Chara lit the lamp on a one-timer after Kris Versteeg somehow lost the 6'9″ defenseman.  Then before the Bruins PA announcer finished announcing the Chara goal, David Krejci put the Flyers down 2-0.  The Krejci goal came at the 1:03 mark of the first period when Andrej Meszaros let the forward slip in front of him.  The Flyers defense in the first 1:03 of last night's game was as non-existent as Danny Briere was all night.
By giving up two goals in the first 63 seconds of last night's playoff game, the Flyers set a franchise record for the fastest 2 GAA in a playoff game.  History will be made, right?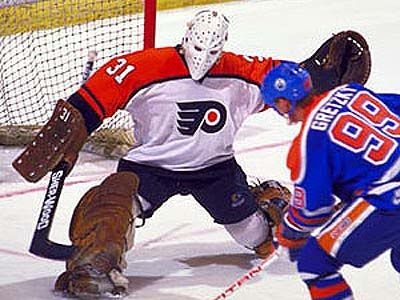 The previous mark was set on May 26, 1985 in the Stanley Cup Finals against the Edmonton Oilers.  In Game 3, a relatively unknown forward named Wayne Gretzky scored twice in the first 85 seconds against Pelle Lindbergh.  Flyers winger Derrick Smith would get one back just 16 seconds later, but the Great One added another later in the first period.  The Oilers went on to win the game 4-3, and took the Cup (their second straight) in five games.
So thanks to last night's defensive ineptitude, there is one less hockey trivia question out there for which you can just guess Gretzky and be right.
---