The 10 Worst Philadelphia Sports Quotes
Posted:
May 5, 2011 |
Author:
Lalli
|
Filed under:
Other
|
1 Comment »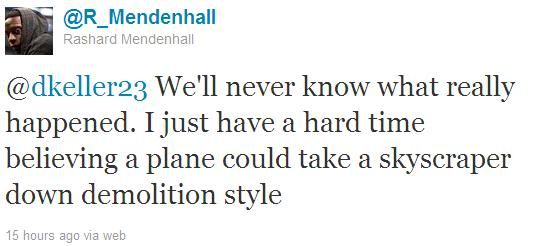 Rashard Mendenhall is the latest in a long line of athletes who've caught flack for saying some really stupid things.  After the killing of Osama (or Usama, depending on which side of the aisle you're on) bin Laden, Mendhenhall stirred controversy by posting tweets that criticized those celebrating the death and questioned bin Laden's role in the 9/11 attacks.  He's since deleted and tried to clarify the tweets, but nonetheless has suffered a P.R. beating and may lose endorsement deals.  UPDATE- 5/6/11: Champion ended its business relationship with Mendenhall in light of the tweets and cancelled their endorsement deal with him.
In today's social-media-technology-fueled-instant-news-culture, more and more athletes and sports figures are finding themselves in trouble for tweets that aren't necessarily run through the player's representatives before showing up on the feeds of thousands and thousands of people, and then shortly thereafter, traditional news outlets.  With twitter, fans get to read an athlete's first impressions on things.  And more often than not, instant reactions aren't well thought out.  While it might be easier for the public to catch an athlete making an ill-timed or just plain dumb remark today, sports figures and dumb quotes have gone hand in hand together for years.
Here's a list of the 10 worst quotes from the mouths of Philadelphia athletes/coaches:
10. The problem with Philadelphia fans is that they want you to play every game like it's your last one.
That's our favorite selection from the 1993 NBA draft, Shawn Bradley.  Pretty clear why this makes the list: A second-overall draft pick wondering why a fan base would expect him to work hard during games is ridiculous…especially in a town that has always placed work ethic above talent.
9. Half this game is 90% mental.
Daniel Orzechowski, better known as Danny Ozark coached the Phillies from '73 to '79 and stumped everyone with this quote.
8. I have to do a better job of putting guys in position to make plays.
The bread and butter of Andy Reid press conferences since 2000.  With Reid spitting out this meaningless quote in each and every post game presser, it's only a matter of time until Les Bowen's head explodes.
7. When you get that nice celebration coming into the dugout and you're getting your ass hammered by guys; there's no better feeling than to have that done.
Lovable Matt Stairs after his moon shot game-winning home run against the Dodgers in the 2008 playoffs.  There's nothing like a good ass-hammering.  Word choice is obviously not Matt's strong suit.
6. I don't give a crap whether he ever plays again or if I ever see him again.  All he ever did was cause aggravation to our team.
That's crotchety old Bobby Clarke on Eric Lindros after the Flyers traded him to the Rangers in 2001.  Apparently, Bobby doesn't like dominant players who suffer concussions, or their parents.
5. There will never be another player like me.  I'm the ninth wonder of the world.
There's not another Philadelphia athlete who could have gotten away with saying this at any point in his career, especially as a rookie; Sir Charles is one of a kind.
4. All he does is catch touchdowns.
Buddy Ryan's explanation on the release of Chris Carter sounded ridiculous at the time.  But as we learned over the years, Ryan couldn't tell everyone that the real reason Carter was being waived was due to three failed drug tests.
3. I'm a special player.  I'd like to thank my hands for being so great.
Freddie Mitchell was a special player, but much more for his Hall of Fame caliber lack of self-awareness than for his play.  He was a first- round selection that gave us 4th and 26th, but not much else.  This dandy came after a game against the Vikings when he was in the right place at the right time for a TD when LJ Smith coughed up the ball at the goal-line.
2. For who?  For what?
Ricky, Ricky, Ricky.  In the post game press conference after a loss to the Tampa Bay Buccaneers, in which he blatantly alligator-armed a ball over the middle, Watters signed his own death certificate in Philadelphia.
1.  I'm supposed to be the franchise player, and we're sitting here talking about practice.  I mean, listen, we're talking about practice.  Not a game, not a game, not a game…we talking about practice.
There's little debating that this quote belongs #1.  Allen Iverson mesmerized audiences with one the best news conferences in sports history after Larry Brown criticized him for not showing up for practice. Did we miss any? If so, please post them in the comments.
---