Retired Pitcher Loses Game
Posted:
May 10, 2011 |
Author:
Lalli
|
Filed under:
Baseball
|
Tags:
1950s
|
1 Comment »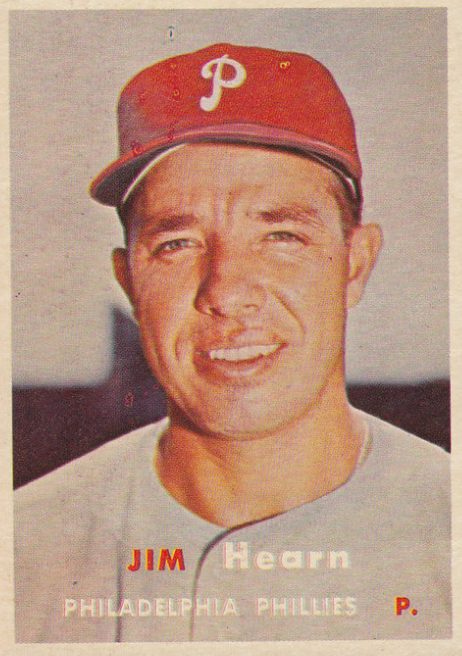 A relief pitcher losing a game is one thing, but a retired pitcher being charged with a loss is something completely different; and that is exactly what happened to Phillies Pitcher Jim Hearn on May 10th, 1959.
On that day, the Phillies faced the Pittsburgh Pirates at Forbes Field in Pittsburgh in a doubleheader.  After winning the first set by a score of 6-3, the Phils started the second game  with Ray Semproch at the mound.  The Phillies had a 4-1 lead until the bottom of the sixth when Semproch gave up a game-tying, pinch-hit 3 run HR to Smoky Burgess.  "Big Jim" Hearn was called into relieve Semproch with the score knotted at 4 and got out of the inning without further damage.  The Phils went scoreless in the top of the 7th.  In the bottom half of the inning, Hearn gave up an RBI double to Burgess.  Hearn was pulled after the double, but he was charged with another run before the 7th inning ended.  All told, Hearn pitched 1.1 innings and gave up 2 earned runs along with the lead.
Entering the 8th, the Phillies were down 6-4 and were blanked in the top half of the inning.  With 2 outs in the bottom of the 8th, the umpire suspended the game.  It wasn't suspended due to weather, or darkness, or anything like that…it was suspended because of religion.  Pennsylvania's blue-law curfew (in effect in some form since 1794) prohibited baseball after 6pm on Sundays.
The game was rescheduled for July 21, 1959, the next time the Phils and Pirates were slated to meet.  Unfortunately for Hearn, the Phillies released the 38-year-old pitcher on May 22, resulting in his retirement.  When the game finally resumed in late July, the Phillies never regained the lead and ultimately lost by a score of 7-6.  Retired or not, Hearn was still the pitcher of record and was saddled with the loss, a clear 2 months after his baseball career ended.
---