Cliff Lee Channels Spirit of Ol' Pete
Posted:
May 17, 2011 |
Author:
Lalli
|
Filed under:
Baseball
|
Tags:
1920s
,
Cliff Lee
,
Grover Cleveland Alexander
|
Leave a comment »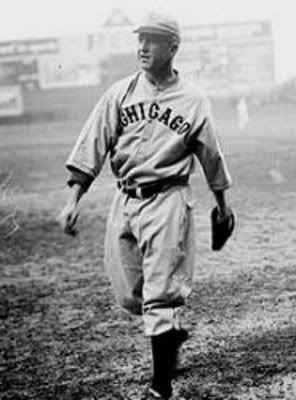 Cliff Lee averaged 1.2 walks for every 9 innings pitched over his first eight starts this year, leading the league.  He had not walked more than 2 batters in any one of those starts.  And then last night happened.  Lee lacked his usually dead-on-balls-accurate control and set a career high with 6 walks in 6.1 innings as the Phillies went down in St. Louis by a score of 3-1.
Lee isn't the only pitcher to lose control this time of year.  In fact, on this day in 1923, Grover Cleveland Alexander (then pitching for the Cubs) walked three batters in a 7-4 win against the Phillies.  Walking three batters might seem to lack historical significance, but in Alexander's case, it doesn't.  On May 17, 1923, Alexander walked to the mound having started 6 previous games that year.  They were all complete games, totaling 52 innings pitched.  Alexander worked through each of those games and all of those innings without issuing a single free pass.  That feat still stands as the most consecutive innings pitched to start a season with no bases on balls.
The record for the longest streak of innings pitched without a walk is held by Bill Fischer, who went 84.1 innings without a single walk in 1962 for the KC Athletics.  Greg Maddux holds the National League record of 72.1 consecutive innings, which he set in 2001.
---