Philadelphia's 2nd Best 2nd Baseman Returns
Posted:
May 23, 2011 |
Author:
Lalli
|
Filed under:
Baseball
|
Tags:
1910s
,
Chase Utley
,
Eddie Collins
,
Philadelphia Athletics
,
Philadelphia Phillies
|
Leave a comment »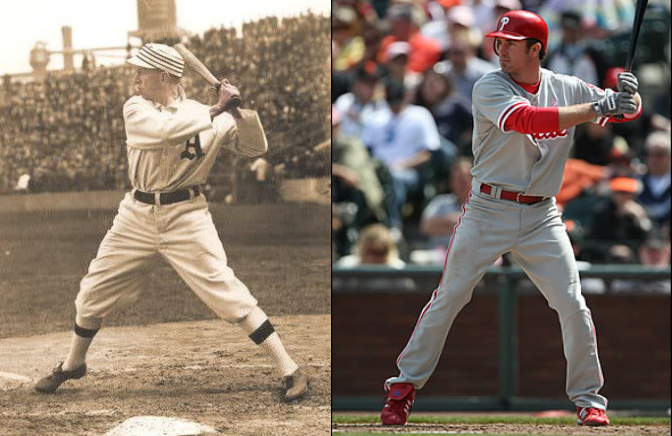 Chase Utley's resume is loaded even considering the time he's lost due to various injuries.  Over the course of his 8-year career for the Phillies, he has boasted a career .287 average, 4 years over 100 runs, 4 years over 100 RBI, over 200 homers and over 125 stolen bases.  Utley is a five-time All-Star and a four-time Silver Slugger winner.  Simply put, during his tenure, Utley has been the best hitting 2nd baseman in the game.  His trophy case doesn't house any Gold Gloves, but that's the result of a screw-job.  His UZR/150 (this may be a history site, but I love newfangled stats) reveals he was the best defensive second baseman in National League in 2005, 2006, 2008 and 2009; and from '07-'09 he was, by far, the best defensive second baseman in all of baseball.
That being said, and with all due respect to Mr. Utley, we've seen better, a lot better.  At 5'9″ and 175 lbs., Eddie Collins (seen above) may not have been an imposing figure, but there is no doubt that he stands taller than anyone else who has ever played that position in this town.
In the summer of 1906, between semesters at Columbia, Eddie Collins played semi-pro baseball for a team based in Rutland, Vermont.  He was "discovered" by A's pitcher Andy Coakley, who was vacationing when he saw Collins play.  Coakley passed word to Connie Mack about Collins' skills and the undergrad student signed that summer (albeit under the pseudonym of Eddie "Sullivan" in a fruitless attempt to preserve his college eligibility).  In 1909, his first full year as a regular with the Athletics, he took the league by storm.  In 153 games, Collins batted .347, scored 104 runs and stole 63 bases.  At the plate he was 2nd in the league in batting average, hits, walks and steals.  Defensively, Collins led all second basemen in putouts, assists, double plays and fielding percentage.
The 1910 A's rolled to the pennant and the 23-year-old Collins was a major factor.  He led the American League in steals with 81 and was top 5 in hits, RBI and batting average.  Once again, he led almost every fielding category.  Collins didn't disappoint in the postseason either, batting .429 in the title clinching series against the Cubs.  From 1911 through 1914, the A's won 3 more pennants with Collins leading the way.  Over those seasons, Collins' batting average was never lower than .344, he stole an average of 53 bases and scored an average of 119 runs.  Collins was a contender for the Chalmers Award (given to the league's most valuable player) each year and finally took home the honor in 1914.
Although he was a cornerstone of the A's dynasty, Collins was sold to the Chicago White Sox for $50,000 after his MVP season.  Collins spent 12 years in Chicago and solidified himself as the best second baseman in the game.  In 1917, the White Sox and the Giants met for the world title.  Collins batted .409 in the series and scored the series winning run in Game 6 after escaping a run-down between 3rd and home by outracing third baseman Heinie Zimmerman to the plate.  In 1919, after returning from WWI, Collins was again a star for the White Sox and was one of the few not caught up in the "Black Sox" scandal of the World Series (notwithstanding his .226 in that series).
In all, Collins played 25 seasons in the majors and finished with a lifetime .333 batting average and a just as impressive .328 post season average.  He amassed 3,315 hits, 744 steals, 1,300 RBI and 1,821 runs.  With those numbers, and his 4 world titles, he was easily elected to the Hall of Fame in 1939.  Putting his production in perspective: Collins leads all HOF second baseman in hits, runs and stolen bases; has the 2nd highest on-base percentage; and has the 3rd highest batting average.
Utley might be the best Phillie to ever play second base, but Eddie Collins is the best to ever play second base in Philly.
---