Wilson Valdez: the next Babe Ruth?
Posted:
May 26, 2011 |
Author:
Lalli
|
Filed under:
Baseball
|
Tags:
1920s
,
Babe Ruth
,
Philadelphia Athletics
,
Wilson Valdez
|
Leave a comment »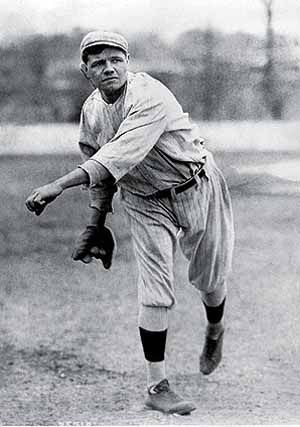 Infielder Wilson Valdez earning the win in last night's 19 inning marathon is the kind of oddity that is reserved solely for extra-inning baseball.  You'll never see Mike Richards throw on goalie pads for the 5th OT, or Jeremy Maclin attempt a game-winning field goal, or Elton Brand switch to point guard; but you might see an infielder who hasn't pitched since he played on the Expos' Dominican League team take the mound when the team needs a scoreless inning.
As JGT points out, Wilson Valdez is the first position player to earn a win for the Phillies since Jimmie Foxx did it, against the Reds no less, in 1945.  But Foxx started the second-half of that double-header on the mound.  He had some time, albeit little, to prepare.  Valdez started last night's game at second base and played there for 18 innings, until he was thrown in to pitch in the 19th.  And he performed: retiring Joey Votto, Jay Bruce and Carlos Fisher (and hitting Scott Rolen for good measure).
The last time a position player who started in the field went on to become the winning pitcher was October 21, 1921 in a game between the Philadelphia Athletics and the New York Yankees at Polo Grounds.  The Yanks were holding on to a 6 run league after seven innings when Babe Ruth, who started in left field, was inserted to close out the game in the 8th.  The A's got to Ruth quickly, scoring 6 runs and tying the game in the 8th.  For some reason, Yankees manager Miller Huggins left Ruth in the game and was rewarded by doing so.  Ruth settled in and pitched scoreless innings in the 9th, 10th and 11th.  The Yankees would go on to win the game in the bottom of the 11th on a Johnny Mitchell RBI single that scored Tom Rogers.
And that's the last time I'll ever compare Wilson Valdez and Babe Ruth.
---