A Demented Fan and the Natural
Posted:
June 14, 2011 |
Author:
Lalli
|
Filed under:
Baseball
|
Tags:
1940s
,
Eddie Waitkus
,
Philadelphia Phillies
|
10 Comments »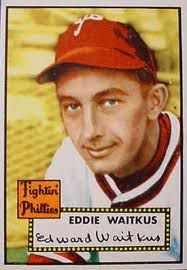 On June 14, 1949, the Phillies played the Chicago Cubs on the road and won by a convincing score of 9-2.  Newly acquired Phillies first-baseman, Eddie Waitkus, continued his solid season by going 1-4 with 2 runs scored.  After the game, he joined his roommate Monk Meyer for dinner and returned to the team hotel at about 11pm.  When Meyer and Waitkus got to their room, they found a note addressed to Waitkus from Ruth Ann Burns.  Waitkus had a "girlfriend" named Ruth Martin, who he sometimes saw on the road, so he followed the note's instructions and headed up to her room.  On his way up to that room, Waitkus could not have known that instead of making time with his road girlfriend, he would instead be put on death's doorstep.
Born in Cambridge, MA, Eddie Waitkus broke into the majors in 1941 with the Chicago Cubs.  After playing only 12 games in the '41 season, Waitkus joined the army and fought in World War II where he earned four battle stars.  He rejoined the Cubs in 1946 and his professional baseball career took off.  Generally known as the best defensive first-baseman in the National League, his offensive production steadily increased each year.  In 1948, he batted .295, stole 11 bases, scored 87 runs and doubled 27 times and was selected as a National League All-Star.  After the '48 season, with Waitkus' value at it highest point, he was traded to the Phillies.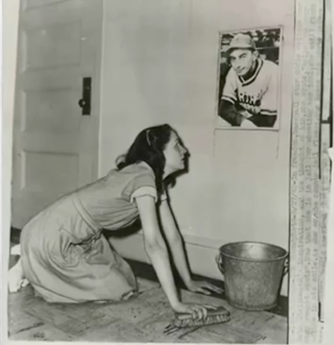 Waitkus' trade may have upset some Cubs fans who saw his potential, but nobody was more upset than a young girl named Ruth Ann Steinhagen.  Steinhagen, who was 11 when Waitkus' professional career began, immediately fell for the player and developed an unhealthy obsession.  According to her mother, she attended many games and listened to every one she couldn't make.  She cut out and kept newspaper clippings and photos of Waitkus.  This behavior continued, and worsened, as she built a shrine to Waitkus in her bedroom and became obsessed with anything Waitkus, including his number (36).  She even tried learning Lithuanian when she found that Waitkus was of Lithuanian descent.  In November of 1948, she quit her job and began wandering the city looking for Waitkus.  Her parents sent her to a psychiatrist, but her obsession wasn't quelled.  As you can imagine, when Waitkus was traded to Philadelphia, Steinhagen broke down and "cried day and night."
When Steinhagen realized the Phillies would be visiting her hometown Cubs on June 14, she jumped into action.  She booked a room at the Edgewater Beach Hotel, where she knew the Phillies, and Waitkus, would be staying.  She brought a suitcase full of baseball statistics, pictures of Waitkus, newspaper clippings about the first-baseman and 50 ticket stubs from the '48 season.  After attending the June 14th game, she went back to the hotel and ordered a few drinks to be brought up to her room.  When the drinks arrived, she paid the bellhop $5 to bring this note to Waitkus' room.  And then she waited.
When Waitkus arrived, she told him that she was a friend of Ruth's and that Ruth had just stepped out for a moment.  Waitkus believed her and walked past her into the room.  He didn't notice she was holding a knife.  As Waitkus sat down, Steinhagen told him that she wanted to give him a surprise.  By this time, Steinhagen was an attractive,  6 ft, 19-year-old brunette, and Waitkus was probably expecting a good surprise.  However, instead of Steinhagen returning from the bedroom closet having "slipped into something more comfortable," she came back with the .22 calibre rifle she had purchased a week prior.  She told Waitkus "For two years you've been bothering me, and now you're going to die" and pulled the trigger.  The bullet hit Waitkus in the chest just below his heart, lodged near his spine, and collapsed his right lung.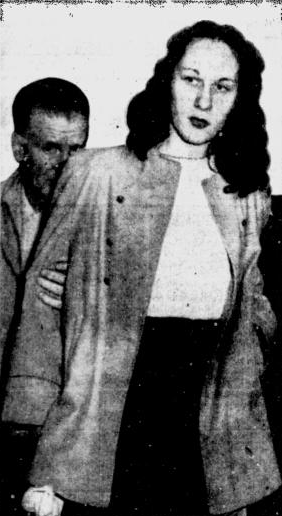 After seeing Waitkus slump to the ground, Steinhagen called the hotel front desk and confessed to the shooting.  Her quick phone call ended up saving Waitkus' life, as medical personnel arrived on the scene immediately and rushed Waitkus to the Illinois Masonic Hospital.  He underwent a number of surgeries and recovered from the gun shot wound.
Steinhagen was arrested and charged with assault and attempted murder.  She told police she shot Waitkus because she was "infatuated with him" and "wanted to feel the thrill of murdering him."  A jury found her legally insane and she was committed to a mental hospital.  After receiving 3 years of shock treatment, she was declared "sane" and released.  In the end, her criminal charges were dropped.
After Waitkus was discharged from the hospital, he began an intense rehabilitation program in Clearwater, FL.  His hard work paid off, and he returned to play every game with the 1950 Pennant-winning Whiz Kids.  The Associated Press named him Baseball's "Comeback Player of the Year."  Waitkus played five more seasons, though he never lived up to his pre-injury potential.  He ultimately retired in 1955.
If you think this story would make a great movie, you're right.  Although Eddie Waitkus may not be a household name, you've already heard his story.  Waitkus was the source for Bernard Malamud's famous character Roy Hobbs in The Natural, which was adapted into the 1984 Robert Redford movie of the same name.
---