Eight-Year-Olds, Dude.
Posted:
July 1, 2011 |
Author:
Lalli
|
Filed under:
Baseball
|
Tags:
1950s
,
Ed Bouchee
,
Philadelphia Phillies
|
2 Comments »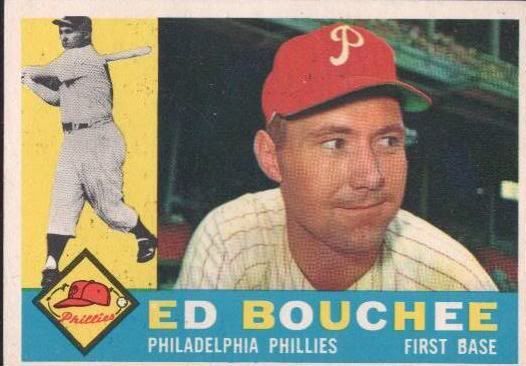 We'd love to think all of our hometown players throughout history were the "good guys."  Philadelphia athletes reflect on Philadelphia, and therefore, on Philadelphians as well.  Even if they don't make All-Star teams or bring us a championships, we remain ardently devoted to any player who works hard on the field and carries himself well off the field.  It's a lot more fun to relive the good guys, but we know not all of our players have lived up to that standard.  And because this is a history site, not a party-line blog, we bring you stories of both the good and bad.
Ed Bouchee broke into the majors with the Phillies in 1957.  He batted .293 with 35 doubles, 8 triples, 17 home runs and 76 RBI, which placed him 2nd in Rookie of the Year voting.  The Montana-born Bouchee had quite a career ahead of him, and fans quickly jumped on the Bouchee-bandwagon.  However, it didn't take long for off-the-field issues to hurt the rising star's career.
In the winter of 1958, school children in Spokane, WA began reporting that a man in a white and blue station wagon was driving around and offering rides and showing them pictures.  These reports went on for weeks and an intensive investigation was launched.  A tipster jotted down a suspicious station wagon's license plate and turned it into the police.  The next day, investigators were at the doorstep of the car's owner: Ed Bouchee.  At the police station, he was placed in a lineup and identified by three separate young girls.  With the ID, Bouchee was charged with child molestation.  With the evidence mounting, Bouchee admitted to luring a 6-year-old girl into his car, showing her indecent photos and then exposing himself to the young girl.  He also admitted to similar conduct in four other cases that were under investigation involving girls that were 10, 11, 14 and 18 years old.  After the arrest and charge, Bouchee said "I knew I'd get caught.  I'm glad I got caught now."
In the end, Bouchee pleaded guilty to two counts of indecent exposure involving the 6 and 10-year-old girl.  A psychiatrist testified that Bouchee suffered from "compulsive exhibitionism," a neurosis caused by emotional illness.   Indecent exposure to a minor is a felony in Washington state that, at the time, carried a maximum of 20 years in prison.  However, Bouchee was placed on probation for 3 years and forced to undergo psychiatric treatment.  With the sentence, Bouchee was also indefinitely suspended from baseball.
He was admitted to the Institute for Living in Hartford, Conn. in early March and discharged on May 30 after his doctors determined he had recovered.
On July 1, 1958, commissioner Ford Frick reinstated Bouchee to baseball.  Frick said:
It was the only decision I could live with…I have made an exhaustive study of all the evidence and I am convinced Bouchee is completely cured…If there was any evidence that he would fail again, I would not have reinstated him.  I am assuming sole and complete responsibility.
When Bouchee returned to the Phillies, he was generally accepted back by his teammates and fans.  However, he never matched the production of his rookie year.  He played in Philadelphia until 1960, when he was sent to the Cubs.  He played his last year in the majors in 1962 as a member of the 40-120 expansion Mets.
Today, Bouchee is reportedly living in Arizona, maintaining the low profile he has kept since his guilty plea.
---