The Phillies' Longest Winning Streak
Posted:
August 7, 2011 |
Author:
Lalli
|
Filed under:
Baseball
|
Tags:
1880s
,
Philadelphia Quakers
,
Phillies
|
2 Comments »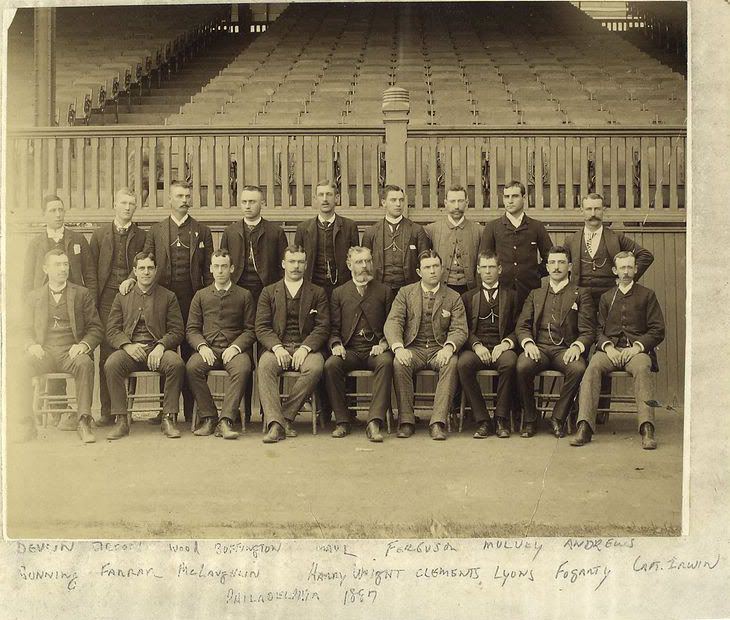 On July 28th, the Phillies faced Tim Lincecum and the Giants and fell 4-1.  They haven't lost since. The Phils went on to sweep the Pirates and Rockies in three-game sets and have taken the first 3 of 4 against the Giants, winning 9 consecutive games.  Today, the Phillies are once again up against Luiz the cab-driver with Roy Oswalt looking to extend the team's win streak to double-digits.
Nine wins in a row is nice, but it's not even close to the team record.  That record, 16 wins without a loss, belongs to the dapper gentlemen pictured above of the 1887 Philadelphia Quakers.  On September 15th, the Quakers were stuck in 4th place mired 9.5 games behind the Detroit Wolverines. They then got hot, really hot.
The Quakers swept the Indianapolis Hoosiers, the Wolverines, the Pittsburgh Alleghenys, the Washington Nationals and the Boston Beaneaters for 13 straight victories.  The final series of the season was a 4-game set at the original Polo Grounds against the New York Giants.  The Quakers took the first two, tied the third and then won the last game of the series and the season on October 8th.  This capped what Major League Baseball considers a 16-game winning streak, but what the hockey-guy in me wants to call a 17-game unbeaten streak. No matter the name, the streak propelled the Quakers to a 2nd place finish in the National League.
The 2011 Phillies have some work to do if they want to push the franchise record for consecutive wins past 16 games.  In addition to beating Lincecum today, they will need to sweep the Dodgers in L.A., sweep the Nationals at home and take the first game of the D-Backs series.  It won't be easy, but if any team can do it, the real dream team in this town can.
Note: The Phillies' longest winning streak in the modern-era is 13 games, which was earned in 1977.
---