Richie Ashburn Kicks You While You're Down
Posted:
August 17, 2011 |
Author:
Lalli
|
Filed under:
Baseball
|
Tags:
1950s
,
Alice Roth
,
Phillies
,
Richie Ashburn
|
1 Comment »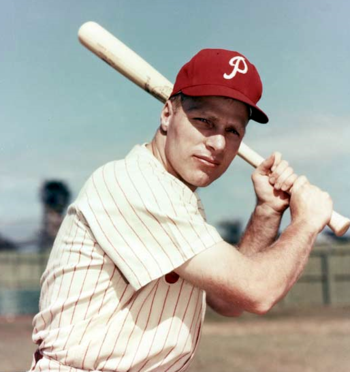 On August 17, 1957, Richie Ashburn showed the world his true colors.  Although he is universally beloved in Philadelphia for his performance on the field and the relationship he forged with fans as a broadcaster, he was actually a belligerent grandmom hater.  Just ask Alice Roth.
Mrs. Roth, the wife of Philadelphia Bulletin sports editor Earl Roth, decided to take in the Phillies-Giants game with her two grandsons, Preston and Tom, at Shibe Park.  She and the two young boys were seated in the press box behind third base when Richie Ashburn stepped to the plate.  Whitey, known as one of the best pitch-spoilers in baseball history, lined a foul right at Mrs. Roth.  Unluckily, she was paying more attention to her grandsons than the game and didn't see the ball coming.  It struck her directly in the face and broke her nose.
As medical personnel rushed to take care of the bleeding and dazed Roth, the umpires called time. After she was attended to for a short while, play resumed.  The next pitch came in and Ashburn did the unthinkable: He sent another foul ball to the left side that hit Alice…while she was lying on a stretcher being carried out of the section.
For another foul ball related article, check out the story of Robert Cotter. 
---