This Day in Phils History: Morandini's Unassisted Triple Play
Posted:
September 20, 2011 |
Author:
Lalli
|
Filed under:
Baseball
|
Tags:
1990s
,
Mickey Morandini
,
Phillies
,
Unassisted Triple Play
|
Leave a comment »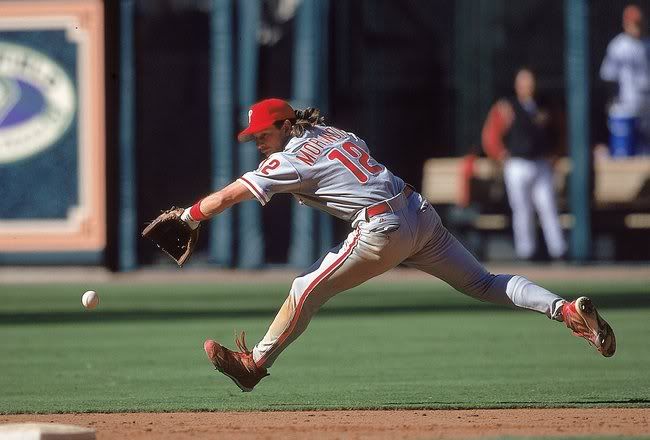 On September 20, 1992, the Phillies were floundering in last place in the NL East and facing the division-leading Pirates at Three Rivers Stadium.  Curt Schilling and Randy Tomlin dominated for their respective clubs pushing the game into extras with a 2-2 score.  The score remained knotted until the bottom of the 13th inning, when Jeff King smoked an RBI liner into center field off Keith Shepard scoring Cecil Espy and giving the Pirates a 3-2 win.
A 13-inning-win is exciting in and of itself, but this game will be remembered not for the score, but for a defensive play that occurred in the bottom of the 6th.  With the game tied at 1, Andy Van Slyke led off the inning with a single to right field.  Barry Bonds then hit a seeing-eye single between Juan Bell and Dave Hollins.  With no outs and men on 1st and 2nd, Schill was in a bit of trouble as Jeff King stepped to the plate.  King worked a full count then smoked a line drive towards Morandini.  The second baseman leaped to make the catch, stepped on second to double Van Slyke, who was almost to third, then tagged Bonds, who had taken off from first.
Morandini's was the first unassisted triple play in the majors since Ron Hansen made one for the Washington Senators in 1968.  It was the first in the National League since Jimmy Cooney's for the Cubs in '27.
In terms of Philadelphia baseball history, Morandini was the first to accomplish the feat.  No Philadelphia Athletic is credited with an unassisted triple play and the only other Phillie to make one is Eric Bruntlett, whose game-ending triple play sunk the Mets on August 23, 2009.
---