Andy Musser Dies
Posted:
January 24, 2012 |
Author:
Lalli
|
Filed under:
Baseball
|
Tags:
1980 Phillies
,
Andy Musser
,
beer
,
Phillies
|
Leave a comment »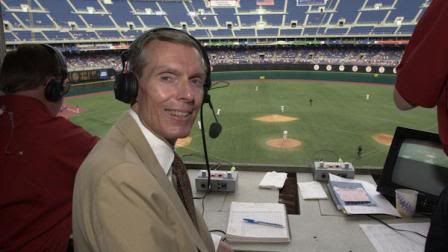 On Sunday, at the age of 74, former Philadelphia sports broadcaster Andy Musser passed away in his Wynnewood home.  Over the course of his career, Musser called games for the Eagles, Sixers and Villanova basketball, but his work in the broadcast booth for the Phillies defined his time in Philadelphia.  From 1976 to 2001, Musser was one of the voices of Phillies baseball.  Never the main guy, but always there in the background supporting Richie Ashburn or Harry Kalas.  When I say always there, I mean it…the guy missed only 2 games during that 26-year span (both with laryngitis).
His most memorable call came late in the 1980 regular season, when Mike Schmidt hit a home run to defeat the Expos and clinch the NL East crown.
There have been a lot of articles written over the past two days about Musser's life and his career, but none better than Tyler Kepner's piece for the NY Times Baseball Blog published last night. You should read the whole thing, but the introduction makes clear the type of guy Andy Musser was:
Whenever I write a long feature story, I try to quote everyone I interviewed. I feel like I owe it to them, for helping me. I've been interviewed for stories but left out of the article, and it's not a good feeling.

About three years ago, I wrote a piece on the epic 23-22 game between the Phillies and the Cubs in 1979. I talked to one of the broadcasters, Andy Musser, who died on Monday at age 74. I quoted Andy only once in the story – and once more in a blog entry – and I felt bad about that.

I shouldn't have. A few days after the article appeared, a postcard arrived in my mail box:

"Tyler, Nice job on the 23-22 game yesterday. You really worked hard on it and brought back many memories for me. Thanks for the mention. Cordially, Andy."
After his retirement in 2001, Andy Musser became the Philly Beer Ambassador for Anchor Brewing Company out of San Francisco.  Musser was a lover of craft beers and used his down time on the road with the Phillies to tour breweries all over the country.
Baseball and beer.  Not a bad life for one of the voices that brought us Philadelphia sports.
---