Most Underrated Philly Athletes of All-Time: #14 John LeClair
Posted:
February 1, 2012 |
Author:
Lalli
|
Filed under:
Hockey
|
Tags:
1990s
,
2000s
,
Flyers underrated
,
John LeClair
,
Underrated Philly Athletes
|
1 Comment »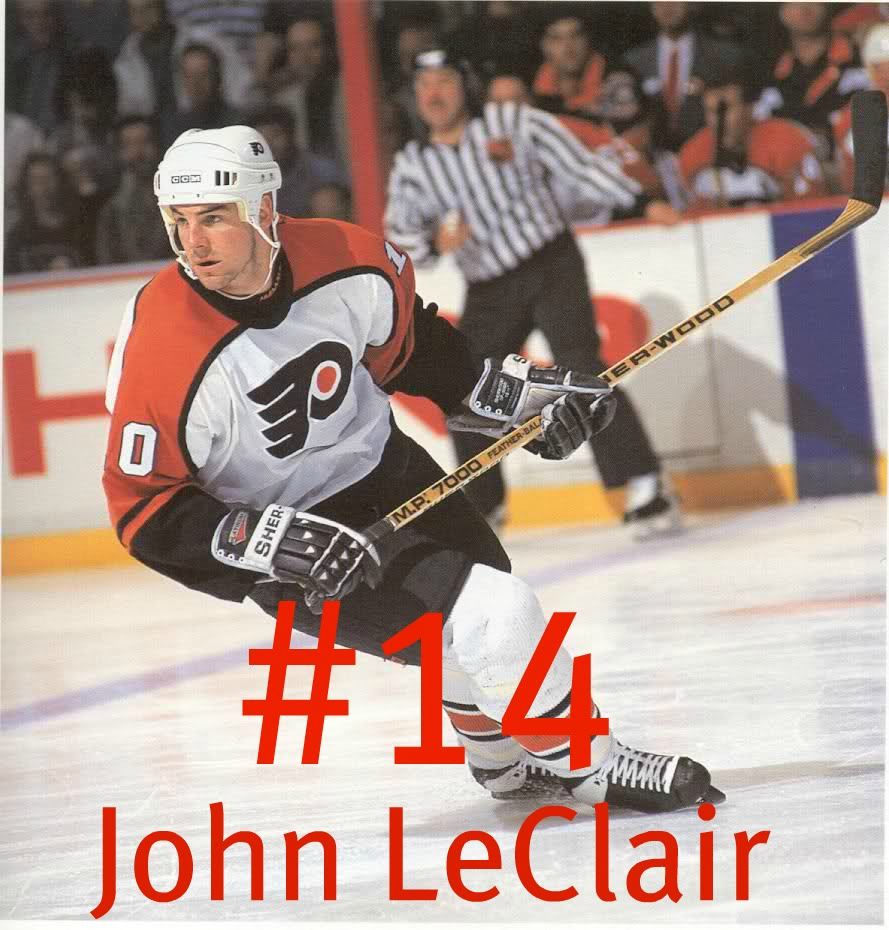 (6 points)
American-born NHL star John LeClair sits at No. 14 on our list of the most underrated athletes in Philadelphia sports history.  His career spanned 16 seasons, 10 of which were spent wearing the Orange and Black ('94-95 to '03-'04).  There's no denying the fact that John LeClair was one of the best scorers in the history of the franchise.  A quick run-down of his resume makes this abundantly clear:
As a Flyer, he averaged 43 goals and 83 points per year.*
He scored 50+ goals in three consecutive seasons from 1995-1998, becoming the first American-born player to accomplish that feat.
He amassed 70+ points in five consecutive seasons from 1995-2000.
He won the NHL Plus-Minus Award for the '96-'97 season and the '98-'99 season.
He was an NHL All-Star in 1996, 1997, 1998, 1999, and 2000.
He ranks 5th in Flyers history in goals and 7th in Flyers history in scoring.
So how is a guy with those stats underrated?  Two words: Eric Lindros.  Most Philadelphia sports fans credit Lindros for most, if not all of LeClair's production.  Obviously, playing on the same line as one of the most talented players in the history of the league has its benefits, but the Vermont-native's size (6'3″- 236lbs.), strength, and finishing ability can't be questioned.  Whether he was parked in front of the net- taking a beating, deflecting shots, or pouncing on rebounds; or letting one of his heavy slap shots go, LeClair was a force for the Legion of Doom.  Lindros' raw talent and play-making ability overshadowed LeClair's consistency and production, which were vital to the success of that line.  And don't forget Mr. Lindros wasn't healthy all that often.  In the '96-'97 season during which Lindros was absent for 30 games, LeClair still scored 50 goals.
No Flyer has dared to wear #88 since the Flyers traded Lindros to the Rangers in 2001, but there's a 20-year-old kid wearing #10 for the Flyers now.
*In seasons he registered at least 76 games played.
---