Most Underrated Philly Athletes of All-Time: #11 Brad McCrimmon
Posted:
March 16, 2012 |
Author:
Lalli
|
Filed under:
Hockey
|
Tags:
1980s
,
Brad McCrimmon
,
Flyers underrated
,
Underrated Philly Athletes
|
1 Comment »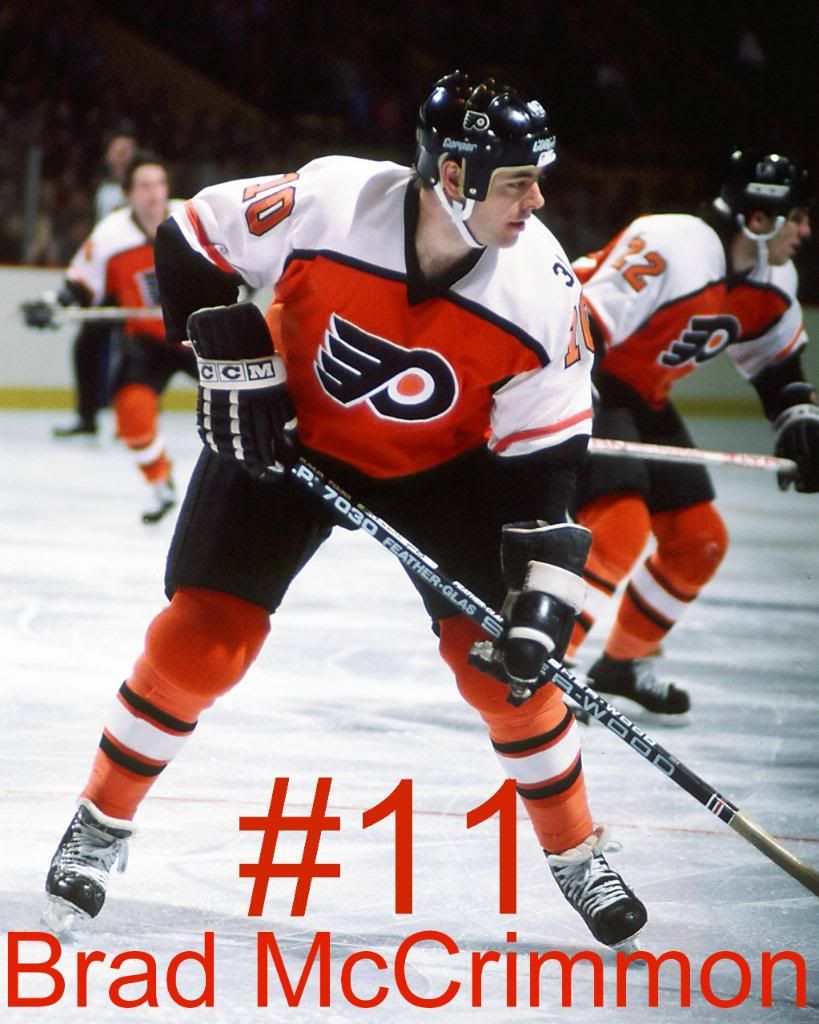 Brad McCrimmon was the kind of player that every coach would love to have.  The 5'11" defenseman combined exceptional positioning with hard-nosed play.  "Beast" did all the workman-type, little things that need to be done for a team to be successful, but also contributed offensively when called upon. He sits at #11 on our list of the Most Underrated Athletes in Philly Sports History mainly because he was paired with Flyers-great Mark Howe.  Howe was much more offensive than McCrimmon, and thus enjoyed much more of the spotlight.  However, McCrimmon's teammates and coaching staff knew that his solid play and defensive mind allowed Howe to roam free without sacrificing the team's defensive integrity.    
McCrimmon joined the Flyers for the '82-'83 season and never registered a negative plus/minus in his five years in Philadelphia.  He was integral to the '84-'85 and '86-'87 teams that reached the Stanley Cup Finals.  Statistically, the Howe-McCrimmon pairing's best season was '85-'86: Howe scored 24 goals, totaled 83 points, and had a plus-minus of 83; McCrimmon scored 13 goals, totaled 56 points, and finished with a plus 83.  Surprisingly, not one other Flyer defensemen finished on the plus side that season.
It wasn't just Howe who benefited from being partnered with McCrimmon.  McCrimmon's error-free play and leadership made him a great partner for young defensemen.  In 1987, McCrimmon was paired with young Gary Suter in Calgary.  In 1991, while in Detroit, Brad McCrimmon was partnered with rookie Nicklas Lidstrom.  Two years later he was paired with rookie Chris Pronger in Hartford.
Bill Meltzer interviewed Brian Propp and Mark Howe, who echoed the fact that McCrimmon never got his due:
Brad was a tremendous defenseman and teammate.  He never got as much credit as he deserved, but the only thing he really cared about was winning.
-Brian Propp
He was a horse and an excellent all-around hockey player. I would play 33 and a half minutes a game and Brad played 27. He never got the credit he deserved but if you look at the defensemen playing then – or now for that matter – Brad was the kind of player who is rare to find.
-Mark Howe
The Brad McCrimmon story ends with tragedy.  After his playing career ended he got into coaching. He served as an assistant for various teams in the NHL over the course of a decade and was hired to coach the KHL's Yaroslavl Lokomotiv just prior to the 2011 season.  Sadly, he was on the plane which crashed on September 7, 2011 and died along with 42 other players, coaches, and staff.
---