Most Underrated Philly Athletes of All-Time: #8 Dick Allen
Posted:
April 4, 2012 |
Author:
Lalli
|
Filed under:
Baseball
|
Tags:
1960s
,
Dick Allen
,
Phillies
,
Richie Allen
,
underrated
|
1 Comment »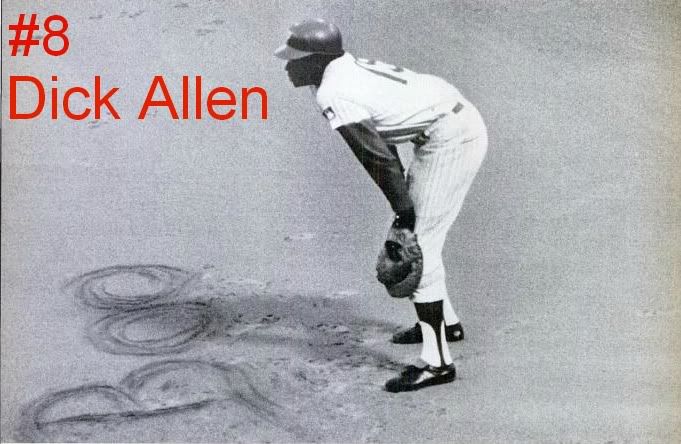 Our 8th Most Underrated Philadelphia Athlete of All-Time is Dick Allen.  Allen's relationship with the fans of this City was unlike any other.  The picture above is definitely worth 1,000 words: you've got Dick Allen playing first base at Connie Mack Stadium for the hometown Phils, he's traced "Boo" into the dirt in front of him in response to the crowd's relentless booing, and he's wearing his batting helmet in the field- not because he had suffered a head injury, but to protect himself from the batteries, pennies, fruit, and garbage thrown at him from the stands.  Merely calling Allen "underrated" doesn't do any justice to how Philadelphia fans treated the star.
The Phillies signed the 18-year-old Allen as an amateur free agent in 1960.  He worked his way through the minor league system and by 1963 he was ready for AAA ball.  The Phillies AAA affiliate at time was the Arkansas Travelers, based in Little Rock, Arkansas.  Allen asked the organization to send him anywhere but Little Rock, but his pleas fell on deaf ears.  Obviously, with it's history of violently fighting desegregation, Little Rock wasn't the greatest place in the world for an African-American in the early 60's.   Throw in the fact that
Allen was the first black player in Little Rock's minor-league history and you can imagine that his welcome wasn't unlike Bart's introduction as the new Sheriff of Rock Ridge (NSFW). Outside the stadium before his first game, Allen was greeting with a fan protest that included a picketing line and signs like "Don't Negro-ize Baseball" and the ultra-created "Nigger Go Home." During his time in Little Rock, he was chastised by the fans and the community.  His car was vandalized.  He received death threats.  Thankfully, his talent on the field made for a short-lived career in Little Rock and he was sent up to the majors as an everyday player in 1964.
Although Allen's stint with the Travelers lasted only a year, it affected him for the rest of his career. First, he started drinking for the first time in his life.  And second, it made him angry.  Angry at the Phillies brass that sent a 21-yr-old black kid into the racial powder keg that was Little Rock against his wishes.
Allen broke in with the Phillies in style.  The rookie batted .318 with 29 HR, 91 RBI, 13 triples, and 125 runs.  He led the majors in triples and runs and was the runaway winner for Rookie of the Year.  His offensive prowess continued and over the course of the next three seasons he was selected to the All-Star Team each year.  He played six years with the Phillies before being traded after the '69 season. Over the course of that time in Philadelphia, he batted .300 while averaging 30 HR, 90 RBI and 98 runs per year.
Those numbers put him in the upper echelon of sluggers in Phillies history, and should put him in the upper echelon of fan favorites.  But that's not where he sits.  Instead, partly due to things outside of his control and partly due to his own behavior, Allen drew much more of this town's ire than its awe.
One of the things out of his control included the size of his contract.  In 1960, he signed with the organization for $70,000 and then in '67 he was given $82,000 (making him the highest-paid 4th year player in baseball history).  With big contracts come big expectations.  Although Allen produced offensively, he also struck out…a lot.  He was no Ryan Howard, but he averaged 141 Ks a year.  He also wasn't the best defensive player, committing 41 errors in his Rookie of the Year season. Strikeouts and errors aren't what fans look for in a high-priced athlete and so the boos started early in Allen's career.
During the next season, Allen's relationship with the fans took a drastic turn for the worse.  Veteran Phils slugger Frank Thomas taunted Allen and his black teammate Johnny Briggs by calling them "boy" and referring to Allen as "Muhammed Clay."  Things boiled over after Thomas called Allen a "Nigger SOB" at batting practice before a game.  Allen went after Thomas and the two fought, Richie Allen with his fists and Frank Thomas with a bat.  After the two were separated, then-manager Gene Mauch approached Allen and told him that he'd been looking for a reason to dump Thomas but that he'd fine Allen $1500 if he ever leaked that fact.  Mauch told the press that he had to choose between a 36-year-old and a 23-year-old.  Not surprisingly, the fans blamed Allen for the departure of the favored veteran.  Allen described the fans' reaction to Life:
The next day, I stuck my head out of the dugout and I'd never heard such booing…People yelled 'Nigger' and 'Go back to South Street with the monkeys' and it hasn't stopped yet.
While the fan's mistreatment of Allen wasn't justified, the slugger didn't do anything to help the situation.  Always at the forefront of controversy, Allen was both the victim and the culprit.  He began showing up late for batting practice, not because he was stuck in traffic, but because he stopped at the bar first.  He was fined and benched a number of times for his tardiness (read: showing up to the park after batting practice was already over, and being hungover or drunk). Not that it affected him. One of his teammates was quoted as saying, "He'd be all glassy-eyed and still hit one 450 feet."  He showed up to spring training in 1968 in a state described by reporters as "hopelessly drunk." He missed team flights, was accused of faking injury to get out of playing, and became a divisive character in the locker room.  The media blamed Allen for the firings of consecutive managers Gene Mauch and Bob Skinner.  He dressed by himself in an equipment room separate from the rest of his teammates.  In 1969, he missed a double-header in New York and was suspended indefinitely. In retaliation, he held out for 26 games and returned only when he was promised a trade out of Philadelphia.  He said,  "I can play anywhere; First, Third, Left field, anywhere but Philadelphia."
The press took whatever ammunition Allen supplied and buried him with it, sometimes rightly and sometimes wrongly.  He was painted as a trouble-maker, as a player with entitlement issues.  The stories wouldn't have been as interesting if the reporters divulged that Phillies management granted the star certain privileges (driving to games, taking time off, etc.), so that never made it to print. And so with the blessing of the fan base, Allen was traded.  
After his trade, he didn't stop producing.  He earned 4 more All-Star selections.  He was awarded the MVP in 1972, a year in which he batted .308, with 37 HRs, 90 runs scored, 113 RBI, and 19 steals for the Chicago White Sox.  He did return to Philadelphia in 1975 for two more seasons with the Phillies before finishing his career in Oakland in 1977.  
Instead of going down in history with the likes of Schmidt, Roberts, and Carlton, Dick Allen is remembered more for being controversial than for being talented.  Because Philadelphia couldn't look past his off-the-field issues and see his on-the-field skills, he remains one of the most underrated athletes to play in Philadelphia.
---