#2 Most Underrated Athlete in Philly Sports History: Hal Greer
Posted:
May 15, 2012 |
Author:
Lalli
|
Filed under:
Basketball
|
Tags:
1960s
,
1970s
,
Hal Greer
,
Sixers
,
Underrated Philly Athletes
|
Leave a comment »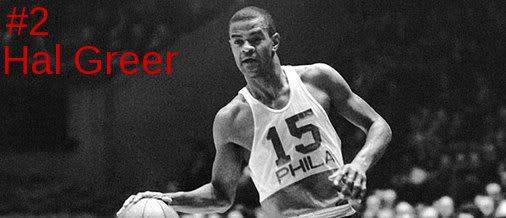 If there were an award given for a player who is most respected by basketball insiders, while getting the minimum public appreciation, Greer could win hands down.

-Herald-Tribune
The reason that so many players are on this list is timing.  And that couldn't be more true for our 2nd Most Underrated Philadelphia Athlete, Hal Greer.  He was a guard at a time when two of the best guards in the history of the NBA played.  And he was teammates with the best Sixer in the history of the franchise.  Being compared to Oscar Robertson and Jerry West, in addition to playing second-fiddle to Wilt Chamberlain in Philadelphia lands Hal Greer on our list. His unmatched production and consistency are what rank him so high.
There aren't many guys in pro sports like Hal Greer anymore.  He was born June 26, 1936 in Huntington, West Virginia and became the first black athlete to receive a scholarship at Marshall University.  After graduating in 1958, he was drafted by the Syracuse Nationals, who later became the Philadelphia 76ers.  He went to the university located in his hometown and then played out his 15-year professional career for the same franchise.
He was most known for his speed and his mid-range jumper.  His style was much more hard work than it was flash.  Greer's teammate, and then coach, Dolph Schayes had this to say:  "Hal Greer always came to play. He came to practice the same way, to every team function the same way. Every bus and plane and train, he was on time. Hal Greer punched the clock. Hal Greer brought the lunch pail."  He is also remembered for his quirky style at the free-throw line, from which he would shoot jumpers.  His career free throw percentage is 80.1%.
Over the course of his NBA career, the 6'2″ guard averaged 19.2 points per game, 4 assists, and 5 rebounds.  He scored more than 20 points per game in eight seasons.  He played in ten consecutive All-Star games from 1961 through 1970.  Although he was the smallest player on the 1968 East All-Star team and although he played just 17 minutes, he earned the MVP Award after going 8-8 from the field, 5-7 from the line, and scoring 21 points.  From '63-'69 he was named to the All-NBA Second Team.  He was the type of player that always turned things up in the playoffs.  In the 1967 playoffs, he averaged 27.7 ppg, 5.9 rebounds. and 5.3 assists while quarterbacking the best team in basketball history to an NBA Title.
The fact that he scored so well while playing alongside Wilt Chamberlain speaks volumes about Greer's abilities.
Greer retired after the '72-'73 season.  At that time, he had appeared in more games (1,122) than any other player in NBA history.  His 21,586 career points ranked among the all-time top 10, as did his totals for minutes played, field goals attempted and field goals made.  His numbers still stand up almost 40 years after he retired.  He currently sits 30th all-time in scoring, 22nd in field goals made, and 26th in total minutes.
The usual waiting period for induction into the NBA Hall of Fame is 5 years.   Underrated as always, Greer was forced to wait nine.
Previously:
#15- Byron Evans, #14- John LeClair, #13- Von Hayes, #12- Freddy Leach, #11- Brad McCrimmon, #10- Del Ennis, #9- Eddie Plank, #8- Dick Allen, #7- Kimmo Timonen, #6- Bobby Abreu, #5- Joe Frazier, #4- Ricky Watters, #3- Donovan McNabb
---