This Date in Phillies History: Mike Schmidt Says Goodbye
Posted:
May 29, 2012 |
Author:
Lalli
|
Filed under:
Baseball
|
Tags:
1980s
,
Mike Schmidt
,
Phillies
|
Leave a comment »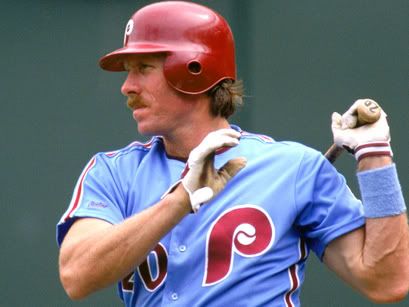 On May 29, 1989, Michael Jack Schmidt announced his retirement from Major League Baseball.
Schmidt played out 42 games of the 1989 season, but stepped away from the game just prior to his 43rd.  He announced his retirement at Jack Murphy Stadium before the Phillies took the field against the Padres.
Nagging injuries and age had caught up with the 39-year-old infielder.  He missed the last two months of the '88 season after undergoing shoulder surgery.  His struggles to open the '89 season led him to admit that he simply couldn't do it anymore.  He was hitting only .203 with 6 HR at the time of his retirement.  He was mired in a 2-41 slump at the plate and was leading the Phillies with 8 errors. In his tearful speech, the opening of which is below, he said: "Over the years, I've set high standards for myself as a player, and I always said that when I couldn't live up to those standards I would retire. I no longer have the skills needed to make adjustments at the plate to hit or to make some plays in the field and run the bases."
Schmidt retired with 548 career home runs, 3 NL MVP Awards, a World Series MVP Award, 10 Golden Gloves, 6 Silver Slugger Awards, and 12 All-Star Game appearances.  He led the National League in home runs 8 times and in RBI 4 times.  In 1995, he was inducted as a first ballot Hall of Famer.
---