Posted: June 22, 2011 |
Author:
Johnny Goodtimes
|
Filed under:
Basketball
|
Tags:
Charles Barkley
,
Harold Katz
,
Jeff Ruland
,
Moses Malone
,
Roy Hinson
,
Sixers
,
Terry Catledge
|
2 Comments »
The 1986 NBA draft is one of the most memorable in sports history. The #2 pick died of a cocaine overdose, and three other players threw away their talents with drugs. The first round was almost a complete bust, with only one player ever making an All-Star team, while the 2nd round was a huge success. Dennis Rodman, Mark Price, and Jeff Hornacek all had long and productive NBA careers. It was also the draft in which the Sixers dismantled their team, making two of the worst trades in NBA history within a few minutes of each other, and destroying a once proud franchise.
The Sixers were sitting pretty on draft day of 1986. They had gone 54-28 that previous season, and had won two or more playoff series in 5 of the previous 7 years. (They were only prevented from making it 6 of 7 by missing a last second shot against the Bucks in Game 7 of the 1986 playoffs.) They had a young star named Charles Barkley to build around. And despite the winning record, a trade they had made 7 years previous (when they sent Kobe's dad, Jellybean Bryant, to the Clippers) had given them the #1 pick in the draft. Rarely has a team been is such prime position on draft day. And then, in the space of just a few hours, the Sixers defied the odds and destroyed their team.
Hindsight is always 20/20, but in this case foresight was 20/400. The Sixers front office pulled off two blunders that made picking Sam Bowie over Jordan seem like a reasonable move. After shooting down Detroit's offer of Kelly Tripucka, Bill Laimbeer, and Vinnie Johnson for Moses and the #1 pick, they made a deal with Washington. They traded away Moses Malone and Terry Catledge and two future first round picks to the Bullets for Jeff Ruland and Cliff Robinson.
Sixers owner Harold Katz saw Moses as over the hill. Malone could have been over the mountain and spent the rest of his career dropkicking the ball into the basket and still have been better than Ruland. To put how bad this trade was in perspective, consider this: Malone scored more points in his first five games on the Bullets than Ruland would score in his entire Sixers career.  (Cliff Robinson for Terry Catledge was a wash, with Robinson being slightly better but Catledge being a lot healthier. And as reader Steve pointed out, the Sixers also shipped off two future first round draft picks, )
But the Sixers weren't done. They still felt the need to throw away the first pick in the draft. And they did just that, trading the #1 pick (who everybody knew would be Brad Daugherty) to the Cavaliers for Roy Hinson and cash. What was remarkable about the deal is that the Cavaliers made it despite not having a GM or a coach at the time. Yep, the Sixers got fleeced by a dead end franchise without a front office or a coach. Said Katz a couple of years later (btw, the 1988 Inky article I just linked to is a must read if you want to see the anatomy of this disaster. It's like reading A Night to Remember, that book about the Titanic.):

"When I first heard that Cleveland had called us and offered Hinson, I thought it was a joke. Hinson was coming off a great, great year. He had to be rated one of the top three or four power forwards in the league. He was just 25. He had great stats.
"The excitement in that room about Roy Hinson being available was shared by everyone. There were statements – I'm not going to stay by whom – that it was a no-brainer . . . Let's not even think about it. Let's do it. But we did think about it. We made some phone calls. And everything we heard (about Hinson) was all positive."
The Sixers front office was obviously in a bubble. Everyone in Philadelphia knew instantly that these deals were disastrous. In an article in the Inquirer the next day, a Sixers fan said to the reporter, "That trade was the most stupid thing I've ever heard of. How can you trade an all-star for Jeff Ruland?"
In that same article, Moses showed that he was indeed a prophet. "I thought Harold Katz should have been man enough to call me the night before the trade instead of having (assistant general manager) John Nash call me. I brought them a championship. He should have had enough respect to call me and ask if I wanted to be traded. When Charles Barkley gets to be about my age . . . not my age, but after he's played about five years, I think they might do the same thing to him."
Of course, Moses was off by one year. 6 years later, the Sixers would trade Barkley in the 2nd stupidest trade in team history (Or possibly the 3rd. The Wilt trade was pretty terrible too.)
As for this deal, everything about it was disastrous. Moses would average 18 or more points and 10 or more rebounds in each of the next 4 years, while Jeff Ruland's knees held up for all of 5 games on the Sixers. (He took a 5 year sabbatical, then came back to play 13 ineffective games for the team in 1992.) Roy Hinson never meshed with the Sixers, lasting a disappointing season and a half before being dealt, while Brad Daugherty became the Cavs all time leading scorer and rebounder. The team that had won two or more playoffs series 5 of the 7 years before the Moses trade has won 2 or more playoff series once in the 25 years since the trade.
Harold Katz would remain owner long enough to make the Barkley trade, and also to draft Shawn Bradley, Clarence Witherspoon, and Sharone Wright with top 10 picks. But despite all of the disastrous decisions he made over the years, none compares to that day in June of 1986 when he took a flamethrower to a dynasty. 25 years later, the franchise still hasn't fully recovered.
---
Posted: June 17, 2011 |
Author:
Lalli
|
Filed under:
Basketball
|
Tags:
1990s
,
Andrew Lang
,
Charles Barkley
,
Jeff Hornacek
,
Sixers
,
Tim Perry
|
1 Comment »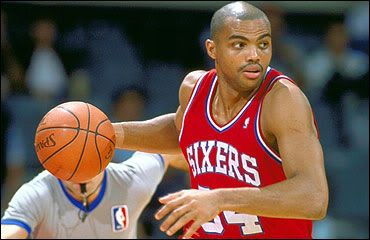 On June 17, 1992, the Sixers made one of the worst trades in the history of the franchise.  While some would say Charles Barkley had worn out his welcome in Philly by then, trading away a legitimate NBA superstar for three role players is never a good move.
The trade came after the 1991 – 1992 season, which was Barkley's 7th year.  By that point in his career, he had already earned 6 All-Star selections.  In the '91-'92 season, Barkley led the Sixers in points per game (23.1), led the team in rebounds per game (11.1), and was second on the team in assists per game (4.1).   Barkley was the best player on that team and one of the best players of his, or any other generation.  But as we all know, this trade wasn't just about statistics.
Barkley's temper and off-court behavior had been an ever-increasing distraction throughout the season and divided the locker room.  Some of his own teammates questioned whether he wanted to win with the team as it became more and more was clear he wanted out of Philly.  Doug Moe, the coach who would be taking over for Jim Lynam, saw that chemistry was an issue as the '91-'92 season progressed and Barkley didn't fit into his plan for the team.  He also pointed to Barkley's declining stat-line, as he had averaged almost 28 points in the '90-'91 season.  The front office agreed and Barkley was shopped extensively throughout the offseason, something he didn't take kindly to:
That is typical of their insensitive organization.  We're not slaves who go to the highest bidder.  Abe Lincoln freed us a long time ago. It was almost like, 'Here's some stud. We'll give him to the highest bidder.'
On June 17, 1992 a trade was finalized with the Phoenix Suns.  In exchange for Barkley, the Sixers received Guard Jeff Hornacek, Center Andrew Lang, and Forward, Tim Perry (a Temple product).  According to Howard Katz, the Hornacek, Lang, Perry return was "by far the best deal offered."  The Sixers tried to get Kevin Johnson in return for Barkley, but the Suns weren't willing to part ways with the All-Star guard.
Hornacek, Lang and Perry weren't marquee names, weren't nearly as talented or electrifying as Barkley, and weren't leaders by any stretch of the word, but they also didn't come with the baggage that Barkley carried.  Baggage that included being in a Milwaukee court the day of the trade on assault charges stemming from a post-game fight in a parking lot in which he broke a man's nose.  The Inquirer summed up the trade quite nicely: "The six-time all-star, one of the finest players of his generation, was dealt away in exchange for youth, speed and perhaps a little peace and quiet."
Screw peace and quiet.  Wins are more important and this trade didn't translate to success.  The Sixers won only 35 games in Barkley's final season with the team, but after the deal, the team's position in the Atlantic Division plummeted.  They won 26 games in '93, 25 games in '94 and 24 games in '95.  By then, Hornacek and Lang were no longer on the roster and Perry was playing less than 3 minutes per game.  Meanwhile, Barkley went on to 5 more All-Star games, a trip to the NBA Finals and an MVP award during his Hall of Fame Career.
There's only been 4 players in the history of the NBA who have amassed at least 20,000 points, 10,000 rebounds and 4,000 assists, and we traded one of them for a whole lot of nothing.
---