Posted: July 26, 2011 |
Author:
Johnny Goodtimes
|
Filed under:
Baseball
|
Tags:
1990s
,
1993 World Series
,
2000s
,
Chicago Cubs
,
Curt Schilling
,
Diamondbacks
,
Ed Wade
,
Mitch Williams
,
Vicente Padilla
|
1 Comment »
It was on this date in 2000 that Ed Wade shipped Curt Schilling to the Diamondbacks for 5 players. As everyone in Philadelphia already knows, 5-for-1 deals don't tend to work out in the Phils favor, whether they are getting the five or the one. No-one denies that this particular trade worked out better for the Diamondbacks than it did for the Phillies. But how much better is debatable.
As someone who wasn't here in 1993, I find the city's relationship with Schilling fascinating. Nowhere is the strange pschology of Phillies fans showcased more clearly than with #38. He is one of the greatest players in Phillies history (Phillies Nation ranked him #12 all time), but when his name comes up in conversation there are rarely joyous kudos for Schill, but more of a cool, quiet respect with not a little bit of bitterness.
It speaks to the emotional connection the city feels with it's athletes. In any other sports crazed city, Schilling would be deified for his performance in the '93 postseason, while a player like Mitch Williams would be hit with tomatoes as soon as he crossed city lines. But in Philly, Williams' transgressions have long since been forgiven and he has become a local legend, while Schilling putting a towel over his head has never been forgiven. Never. Failure is understood and relatable. Selling out your crew is not. Phillies fans believe, rightly or wrongly, that Schilling sold out Mitch, and these fans never forget.
But even though that makes Philly unique, it doesn't end the strange relationship between the city and those 90s Phillies ballplayers. Take for example the trade that sent Schilling to the D'Backs. Schilling had come to the conclusion that he was a star on a lame duck team that had neither the money, brains, or the heart to get any better. And he certainly didn't lack the courage to speak out about it. In 1999, he blasted Ed Wade and the Phillies front office.
Schilling's latest round of criticism began on Major League Baseball's weekly conference call Wednesday. In that forum, Schilling rapped ownership for being cheap and not having a commitment to winning. He talked about the possibility of being traded to a team that is committed to winning…Later, in an interview with several reporters at Olympic Stadium in Montreal, Schilling said he wouldn't want to stay with the team if it wasn't willing to upgrade at midseason. He added that "if ownership is not willing to make a trade or spend in July, they need to sell the team and give Philadelphia fans what they deserve."
That didn't sit well with Wade (who famously called Schilling a horse's ass), and a year later Wade shipped the disgruntled Schilling to the Diamondbacks. But what I don't get is that while I do hear Phillie fans blame Schill for the towel incident, I rarely hear them rip him for blasting management and demanding to be shipped out of town. So why do Phillies fans still boo Scott Rolen for doing the exact same thing at essentially the exact same time? Can someone please explain this to me?
As for the trade itself, it's obvious that the D'Backs got the better end of the deal, and that this was a terrible trade for the Phillies. Schill helped lead Arizona and their hideous uniforms to the 2001 World Series title, and was a beast again in 2002. That said, the deal is nowhere near the Phils' worst. Keep in mind, this is the franchise that over the years traded Hall of Famers Grover Cleveland Alexander, Chuck Klein, Ferguson Jenkins, and Ryne Sandberg for guys named Pickles Dilhoefer, Harvey Hendrix, Bob Buhl, and Ivan DeJesus, respectively. And that's just terrible trades they made with the Cubs! And though he never turned into Curt Schilling, Vicente Padilla turned out to be a better than average pitcher. And keep in mind, Schilling had no Flotilla.
Nonetheless, you have to wonder how the Phils would have fared with Schilling in the early 2000s. In 2001, they missed the playoffs by 2 games. You think Schilling mighta gotten them over the hump? That was rhetorical. As is this: assuming those 2001 Phils make the playoffs, and Schilling pitches for them the way he pitched for the Diamondbacks in that years' postseason, do we wait another 7 years for a title? Alas, the beauty and bane of being a baseball fan is that in no other sport are the "whatifs" as fun or as frustrating to discuss.
RELATED: The Good Phight took a very fair year by year look at the trade 5 years ago.
---
Posted: July 21, 2011 |
Author:
Lalli
|
Filed under:
Baseball
|
Tags:
1990s
,
Curt Schilling
,
Greg Maddux
,
Nick Staskin
,
Philly Sports Memories
|
Leave a comment »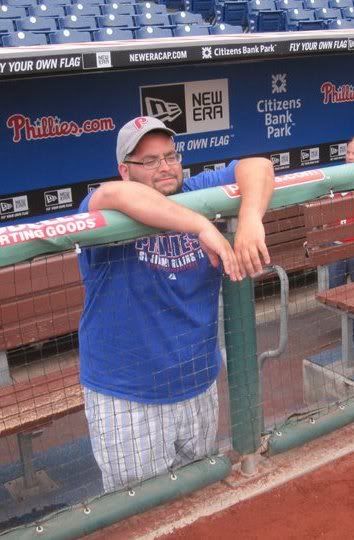 There's nothing like watching professional sports when you are a kid.  The players are larger than life and the things they do on the field are seemingly impossible. They simply do no wrong.  Before we were old enough to know about PEDs and DUIs and all the other off-the-field crap that grabs more attention than their actual play, these athletes were our heroes.
That's why childhood memories of our favorite players or favorite teams endure long into our adult lives.  We hold on to the nostalgia of the way we saw the game when we were young because everything having to do with sports was so pure.
With that in mind, we've reached out to local sports reporters, bloggers, and personalities to see which of their childhood sports memories have stuck with them more than all others.
The first contributor to our series is Nick "Beerman" Staskin (pictured). When Nick isn't serving fans Miller Lite in left field at Citizen's Bank Park, he's writing for the excellent Phils blog, Phillies Nation.
Nick's response:
The memory that most sticks out in my head as a Phillies fan growing up is one that really had no meaning at all. When I was 14 years old, my dad took me to an early April game against the Atlanta Braves on a cold night. The reason? Curt Schilling was going opposite Greg Maddux.
The game took exactly two hours to play and ended when Mike Lieberthal scored Greg Jeffries on an RBI single in the 9th inning to give the Phils a 1-0 win.
Schilling and Maddux did not disappoint. Maddux went eight innings surrendering no runs and only five hits, but Schilling one-upped him throwing the complete game shutout while striking out 10 and only allowing two hits.
Being there with my dad to watch two of the best pitchers of that era duel like that is something that I'll never forget, and the reason I can't wait to raise a baseball fan of my own one day.
The game Nick remembers most took place on April 10, 1998.  You can see the boxscore here.  It was actually the second time that week Schilling faced Maddux. Just five days earlier, Schilling struck out 15 Braves en route to a 2-1 complete game win over Maddux in Atlanta.  Schilling's stat line that week: 2 wins, 0 losses; 2 complete games; 1 ER; 25 Ks; 6 hits; and, 2 BB.
H/T to Nick for his contribution.  He can be found on twitter here.  
---