Posted: May 2, 2012 |
Author:
Johnny Goodtimes
|
Filed under:
Basketball
|
Tags:
Donovan McNabb
,
Eagles
,
James Thrash
,
Jim Kelly
,
Patriots
,
Super Bowl
,
Todd Pinkston
|
6 Comments »
He smiled too much. He didn't run enough. He played the air guitar. He threw up at the Super Bowl. He was passive aggressive. He didn't lead enough 4th quarter comebacks. He told your boss not to give you that promotion. He convinced Napoleon to attack Russia in the winter.
If you ever needed anyone to blame for anything for 11 years, McNabb was a handy target. Part of that had to do with how tough it is to be QB in Philly, part of it has to do with a pricklish personality that never allowed him to "get" Philadelphia, and part of it ("he smiles too much") was sheer nonsense.
But even if I concede everything that drives people crazy about McNabb, there is still simply no debate that "Five" is the greatest QB in Philadelphia Eagles history. And it's not close. He has the record for Most completions, most yards, and most TDs. He played in 6 more games than the beloved Ron Jaworski and threw 41 more TDs and 51 less INTs. He had a winning percentage of 65.2%, while Jaws was just over 50%. He threw 66 more TDs and 5 less INTs than Randall, whose winning % was around 59%.
What makes these numbers even more impressive is the fact that, with one single notable exception, McNabb was playing with receivers who never approached the level of skill of Mike Quick, Harold Carmichael, or even Keith Jackson. Due to the Eagles insistence that "the system" was more important than anything else, McNabb spent season after season passing to James Thrash and Todd Pinkston. Just how good was McNabb? The mindblowingly bad Thrash played with the Redskins for nine seasons and caught for 1620 yards. In just three years with McNabb, he caught for 2026 yards. Coincidence, or an example of a great quarterback making a terrible player better? (As for Pinkston, once the Eagles let him go, not a single team showed interest.) In the one single season during his prime that McNabb had an unequivocally great wide receiver, he had the greatest season any QB in Philly has ever had, throwing for 3,875 yards, 31 TDs and a mere 8 INTs, while leading the Eagles to a 13-2 record in games he started, best in team history.
McNabb then threw for 357 yards in the Super Bowl (the most anyone not named Kurt Warner has ever thrown in a Super Bowl) against a Patriots team that was cheating so hard they made the Black Sox look like choir boys,but it was allegations of McNabb (maybe?) throwing up in the end that became the story of the 2004 season. Despite all the yards, and despite the fact that he shredded a Pats defense had completely shut down Ben Roethlisberger and Peyton Manning in the two games previous, McNabb's Super Bowl, and season, were seen as a failure.
In addition to his questionable attitude, the other thing working against McNabb was the fact that he came along at roughly the same time as Brady and Manning. McNabb was not as good as the other two QBs that came along at the same time, and so, by some sort of twisted logic, he sucked. It was absurd and irrational, but Eagles' fans pride themselves on their passion, not their rationality. McNabb never understood that (as opposed to local icon Brian Dawkins, who understood it implicitly), and his lack of understanding of their rather  diminished his accomplishments in the eyes of many Eagles fans.
Now that time has passed, it is time to re-evaluate McNabb's value as an Eagle. His stats (and his close-but-no-cigar career) compare favorably with the undeniably great Jim Kelly. Kelly played 11 seasons with the Bills, McNabb played 11 for the Eagles. Kelly played in 160 games, McNabb in 148. McNabb passed for 2 more yards per game, Kelly threw slightly more TDs per game (1.48 to 1.46), and McNabb threw 75 less interceptions than Kelly despite playing in 12 fewer games. (And don't forget that Kelly was throwing to Andre Reed and James Lofton, not Pinkston and Thrash.) McNabb also ran for 3249 yards for the Birds, while Kelly ran for 1,049 for the Bills. Kelly went 9-8 in the playoffs. McNabb went 9-7.  Jim Kelly is a God in Buffalo. And yet, here in Philly…Until more people in Philadelphia can separate McNabb's incredible career from their own personal feelings for him, he will remain one of the most underrated athletes in Philadelphia history.
---
Posted: September 16, 2011 |
Author:
Lalli
|
Filed under:
Football
|
Tags:
2000s
,
2004 NFC Championship
,
Andy Reid
,
Atlanta Falcons
,
Brian Dawkins
,
Donovan McNabb
,
Eagles
,
Jim Johnson
,
Michael Vick
|
Leave a comment »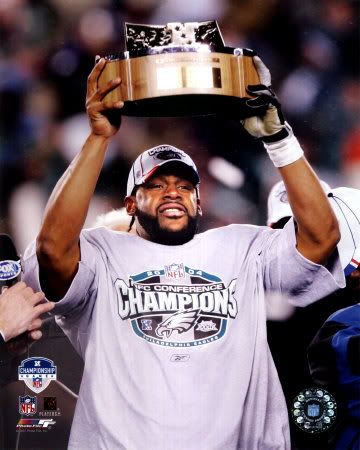 With the Eagles facing Atlanta this Sunday night, let's take a look back at the one Eagles/Falcons game that stands above all others:  The 2004 NFC Championship game.  It's a game I will always remember; hell, it's a game every Eagles fan who was around will always remember.  It isn't so much the game itself though, it is what the game meant to this city.
It's crazy how different the sports psyche of this town was in 2004 than it is now.  We all know the history.  Philadelphia hadn't seen a championship since '83 and was in the longest such streak for any city with 4 major sports teams. This was when Philly sports teams were cursed; we couldn't win.  Even Smarty Jones fell short.  The Eagles were no different.  The Reid-McNabb led Eagles had made the NFC title game in 2001 and lost to the favored Rams.  The next year, the Birds again made it to the conference championship game, but were stunned by the Buccaneers in the last game at Veterans Stadium.  Then in 2003, the Eagles gave us 4th and 26th in the divisional game against the Packers only to lose horribly in the NFC title game against the Panthers at home.
For a franchise that hadn't been to the Super Bowl in more than 20 years, ending the season one game short in 2002 and 2003 left the entire city in a collective clinical depression.  These losses were devastating.    Remember, this was when the entire city lived and died with the Eagles; it was long before the rediscovered love affair with the Phillies sparked back up.  Philadelphians were invested in the Eagles, and they had perpetually let us down just when we were on the brink of the promised land.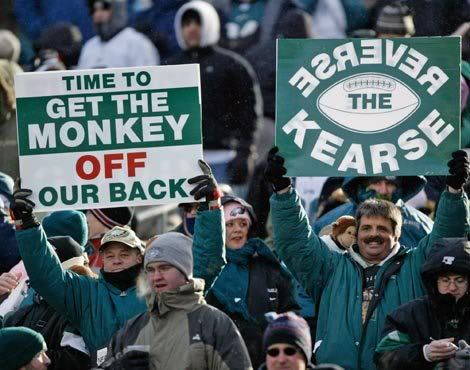 In the offseason prior to the 2004 campaign, Jeremiah Trotter came home and the Eagles added two key free agents in Javon Kearse and a little-known, quiet, role player receiver from Tenneessee Chattanooga.  After a blistering 13-1 start, the Eagles rested their starters for the final two games of the year.  With a bye in the first round and then an easy home win against the Vikings, the Birds again found themselves one win away from the Super Bowl as a home favorite in the NFC Championship Game.  Their opponent would be the Atlanta Falcons.
The game was played Sunday, January 23, 2005…just after a blizzard blew through Philadelphia leaving 2 feet of snow and 17 degree temperatures with brutal 25 mph winds. (Note: The snow was a good omen.  The Eagles won their first championship in 1948 at Shibe Park in a blizzard.  The weather was so bad that fans were given free entry into the game if they brought a shovel and helped clear the field.)  With those conditions, neither team could rely too much on the passing game and if the Eagles were going to finally get to the Super Bowl, they would need to limit Mike Vick's game-breaking plays.
After winning the toss, the Eagles decided to kick and put their defense on the field first.  Andy Reid was confident in Jim Johnson's scheme, which clearly focused much more on containing Vick than it did blitzing.  Jevon Kearse and Derrick Burgess played the edges and didn't let Vick loose.  After forcing a quick three-and-out, the Eagles drove downfield to the Atlanta 29 where they failed on a fake field goal attempt to Chad Lewis and turned the ball over on downs.  After a 34-yard-drive, Atlanta was forced to punt at the Eagles 38 with a chance to really pin the Birds deep.  Swirling winds wreaked havoc on Chris Mohr though, who could only manage an 8-yard punt.  The Birds took advantage with a 70-yard drive that featured a 36-yard run by #36 and ended with a 4-yard TD plunge by Dorsey Levens, who was pushed into the endzone by Jermaine Mayberry.
On the ensuring possession, Atlanta took 9 minutes off the clock driving to the Eagles 2 with a 1st and goal.  With their backs against the wall, Jim Johnson's bend-but-don't-break defense came alive. On first down, the Birds stuffed T.J. Duckett for a loss.  On second down, Michael Lewis blitzed and knocked down a Vick pass attempt.  On 3rd and goal from the 4, Vick dropped back to pass, saw nobody open, and took off up the middle towards the end-zone.  That's when Hollis Thomas made the first big defensive play of the game when he launched himself at Vick and planted him at the line of scrimmage.  A Jay Feely field goal made the score 7-3.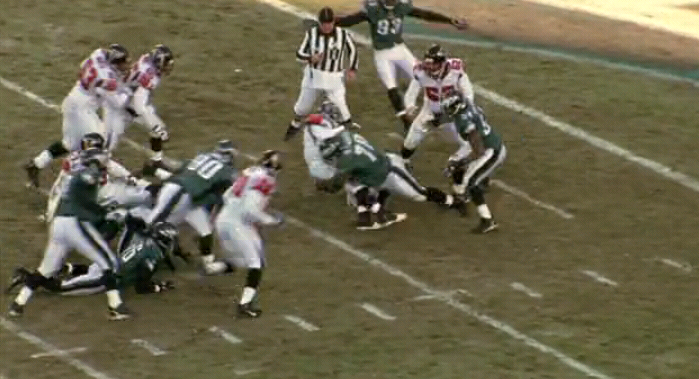 The Eagles answered with a drive of their own that was kept alive by Donovan McNabb.  On a 3rd and 11 at the Eagles 40, McNabb eluded three defenders in the pocket and then fired to Freddie Mitchell for a first down.  Then, a long completion on an underthrown ball to Greg Lewis put the Eagles on the Atlanta 4.  McNabb capped the drive with a TD pass on a play-action to Chad Lewis for a 14-3 lead.
When the Falcons got the ball back with about 5 minutes left in the first half, they got their running game going a bit.  Then Vick completed a long pass to Alge Crumpler at the Eagles 10, who was absolutely annihilated by Brian Dawkins, but somehow held onto the ball.  Warrick Dunn then raced for a TD through the middle to bring the Falcons within 4 points at halftime.
The Eagles opened up the second-half with a 60-yard drive (Westbrook accounted for 48 of those yards) that ended in a David Akers FG to increase the lead to 17-10.  From this point on, the Eagles defense played to perfection.  Burgess and Kearse didn't allow Vick any freedom and Trotter and co. stopped Dunn from any significant gains.  Vick was sacked a total of 4 times and he lost more yards on those sacks than he gained through scrambling.
After both teams traded punts, the Falcons started on their own 10-yard line with 3 minutes left in the third quarter.  On 1st down, Dawkins picked off Vick and took the ball to the 11-yard line.  However, Atlanta stood strong and forced the Eagles to settle for another David Akers field goal and a 20-10 lead.
The Eagles entered the 4th quarter with a lead in the NFC Championship Game, something they hadn't done in their previous three appearances.  The defense continued to limit Vick and the Atlanta offence.  Burgess picked up his second sack of the day on an incredible open-field, one-on-one tackle on Vick.  After two straight Falcon drives ended in punts, the Eagles got the ball on their own 35 yard-line 10 football minutes away from the Super Bowl.  Reid and McNabb would orchestrate their best drive of the day.  An 11-play, seven-minute drive ending in another Chad Lewis TD reception put the Eagles up 27-10 with less than 3 and a half minutes remaining.
That deal-sealing touchdown started the party.  The crowd at the Linc didn't sit down the entire second-half, but it was much nerves than excitement.  That changed when Chad Lewis hauled in that pass.  The crowd erupted in pure, unadulterated elation.  A weight had been lifted off the Eagles and off this city.  Finally.  Chants of "Super Bowl! Super Bowl! Super Bowl!" went on for what seemed like forever.  Grown men hugging and high-fiving and crying and watching the clock count down to 00:00. As I said before, I'll never forget it.
---
Posted: September 5, 2011 |
Author:
Johnny Goodtimes
|
Filed under:
Football
|
Tags:
2000s
,
Correll Buckhalter
,
Donovan McNabb
,
Duce Staley
|
Leave a comment »
The Eagles open the season against the Rams this Sunday. Michael Vick, who was making license plates a couple of years ago, will be leading the Eagles against young, promising upstart Sam Bradford. It's interesting to note that just less than 10 years ago, these two teams met in St. Louis with a trip to the Super Bowl on the line. Kurt Warner, who had been bagging groceries a couple of years before was matched up against the promising young star of the Eagles, Donovan McNabb. Eagles fans were ecstatic to be in the NFC Championship game, their first one since 1980.
But the Eagles defense was no match for Rams superstar Marshall Faulk. He ran for 159 yards and scored two TDs. Of course, that was no knock on an excellent Eagles defense, which had given up 64 points in 8 regular season road games that year, something no team had done since 1942. Faulk was unstoppable at that point in his career, having gained over 2,100 yards from scrimmage that season and having scored 21 TDs, despite missing two games with injury.
The Eagles had no such stars in their backfield, with Correll Buckhalter and Duce Staley combining to rush for almost 1200 yards. But they had a tremendous defense, led by stars Brian Dawkins and Jeremiah Trotter, and wins over the Buccaneers and the bears had gotten them to the NFC championship game. The Birds led, 17-13 at halftime, but the Rams proved to be too much in the 2nd half, and went on to win 29-24. At the time, Eagles fans knew that the better team had won, but were excited by this Eagles team that had all the parts in place to make numerous runs at a title in the future. The Birds would indeed make numerous runs, being a very good team at a time when the NFC was rather pitiful, but they couldn't get over the top. The Rams game is now held up as an example of their futility, instead of being the moment the Eagles showed the world that they would be a contender for the next decade. Here is a recap of that game on CNNSI.
You can find the box score here. The most interesting thing about the box score to me is the names on the starting lineup, none of whom is currently on the team but many of whom have a place in Eagle lore. Troy Vincent, Brian Dawkins, Jeremiah Trotter, Hugh Douglas, Chad Lewis, and of course McNabb. The last link to that team was dropped a few months ago when the Eagles let David Akers go. The Rams have no players left from their 2001-2002 roster, either. There will however be two former member of that 2001 Eagles team playing for the Rams this Sunday. Can you name them?
---