Posted: June 22, 2012 |
Author:
Johnny Goodtimes
|
Filed under:
Baseball
|
Tags:
1880s
,
Art Hagan
,
John Coleman
,
Phillies
|
Leave a comment »
You'll find former Phillies pitcher John Coleman all over the record books, though I doubt he'd be happy to know that he's still there. Coleman was the loser on opening day of the Phillies very first game, and it was a feeling the 20-year old would get to know quite well. He would march onto the mound as a starter 61 times that season, and take 48 losses, ending the year with a record of 12-48 (despite a bad but not historically awful 4.87 ERA. In other words, he was better than Joe Blanton is this year, at 6-6, 5.04 ERA). When he wasn't pitching, he was playing the field, doing time at both first base and in the outfield.
Of course, the 1883 Phillies had no other options. Their number two pitcher, Art Hagen, went 1-14 with a 5.45 ERA. Funny story about Hagen: He was from Rhode Island, so when the Phillies travelled up to Rhode Island for a game, the manager decided to pitch Hagan in an effort to increase attendance. He would be facing Hall of Famer Old Hoss Radbourn. The game did draw a crowd, but their native son gave them little to cheer for, as the Phillies lost 28-0, still the most lopsided shutout loss in MLB history.
Back to Coleman: In 1884, he started the year for the Phillies, but switched over to the Athletics of the American Association, aka the "Beer and Whiskey League", midway through the season (that franchise had no relation to the A's of Connie Mack). Once in the AA, he was used almost exclusively as a fielder. He actually became a pretty decent hitter in the AA as well, batting .299 with 70 RBIs in 1885. He headed out west to Pittsburgh, where he played for both the AA team and the NL team. He hung up the cleats after an 1890 season with the Pirates, presumably hoping that someday someone would break that awful record. They never did, and barring the advent of the 760 game season, they never will. John Coleman is an eternal record holder. When it comes to pitching, he will always be baseball's biggest loser. And still better than Joe Blanton.
---
Posted: April 5, 2012 |
Author:
Lalli
|
Filed under:
Baseball
|
Tags:
1880s
,
Blondie Purcell
,
Charles Radbourn
,
John Coleman
,
Opening Day
,
Philadelphia Phillies
,
Philadelphia Quakers
,
Recreation Park
|
1 Comment »
129 years ago, on May 1, 1883, Philadelphia's National League team was opening up its season, the first in the team's history.
John Coleman was the Quakers opening day starter, and thus, the first opening day starter in the history of Phillies baseball. He's shown to the left holding a bat like, well, a pitcher.  The Quakers opponent that day was the Providence Grays, who threw Charles Radbourn.  Facing Radbourn in their first ever game was a challenge for the Quakers.  Radbourn would win NL's Pitching Triple crown the next year with 59 wins, an ERA of 1.38, and 441 strikeouts.  His 59 wins is a major league record that will never be broken.  He was also the first major leaguer to flip the bird during a team photo.  (If you can't see it, here's a closeup.)
The upstart Quakers got off to a hot start at Recreation Park with some small ball and scored 2 runs in the first inning.  Blondie Purcell led off the game with a single and Bill McClellan followed that up with a double.  With runners on second and third with no outs, two consecutive infield grounders led to two fielder's choice RBI. The score remained 2-0 until the 7th inning, when a 2-out single by catcher Frank Ringo scored third baseman Bill Harbridge to give the Quakers a 3-0 lead.
In the top half of the 8th, the Grays finally got to Coleman.  A leadoff walk surrendered to Radbourn was followed by consecutive singles and a double.  After forcing a groundout, Coleman gave up another single before finally ending the inning.  All told, the Grays put up 4 runs to take a 4-3 lead.
The game wasn't without the type of nostalgic controversy that we all love about old-time baseball. In the Quakers' half of the 8th, Purcell led off with a single.  On his way to first, he sprained his ankle. After reaching safely, he requested to have another player run for him because of the injury. However, he needed not the umpire's permission, but rather that of the captain of the Grays. Purcell's request was denied, leading to the 1,000 or so in attendance to voice their displeasure with the visiting Grays. Next up, Bill McClellan reached first on an error and Purcell limped safely into second.  Two pop-outs later, there were runners on first and second with two outs.  Radbourn threw a wild pitch and in the words of an Inquirer article:
"Purcell started for third, and fairly reached there, but was decided out at third, a very unjust decision, which was vigorously hissed."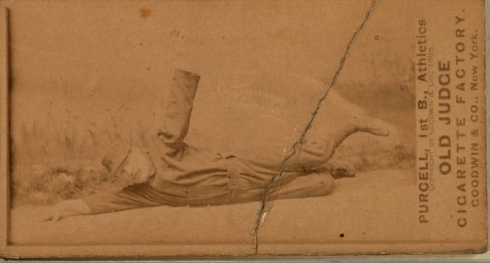 In the ninth, neither team scored.  Opening Day for the history of the Phillies ended with a 4-3 loss at the hands of the Providence Grays.  Things wouldn't get much better for the Quakers in 1883, but the fledgling franchise got its start and National League baseball has lived in this City ever since.
---