Posted: June 5, 2012 |
Author:
Johnny Goodtimes
|
Filed under:
Basketball
|
Tags:
Camden Bullets
,
Paul Arizin
,
Philadelphia Warriors
|
6 Comments »
There is no mystery as to why a man who revolutionized the game of basketball is so underrated. It is because Paul Arizin is, quite simply, a man without a team. While Wilt would make a triumphant return as a Sixer after the Warriors moved, Arizin never got the chance, so his records are kept in the city of Oakland, where he never played a game in his life. Furthermore, he is underrated there as well, simply because he never played there. While the jersey numbers of Tom Meschery (12.7 ppg, 8.6 rpg) and Al Attles (8.9 ppg, 3.5 rpg) hang in the rafters at Oracle Arena, Paul Arizin's #11 is free to any player who wants to wear it, despite his 22.3 ppg and 8.6 rpg. Despite the fact that he has the 3rd most points and 5th most rebounds in franchise history and despite the fact that he was named one of the NBA's 50 All-Time Greatest players in 1996**.
Paul Arizin was born in Philadelphia, and he shockingly did not make his high school team. After high school he went to Nova. He made a name for himself in the Catholic Youth Organization during his freshman year in college. He was approached by then Wildcat coach Al Severance and asked, "How would you like to go to Villanova?" He answered, "I already go to Villanova." He started for the team his sophomore year, and was instantly a superstar. He averaged 20.1 PPG in his career, and despite playing only 3 years is the 5th all time leading scorer in Villanova history. Upon his death in 2006, Jay Wright said, "Paul Arizin was the most dignified, classy and humble legend I've ever met. He is adored and respected by anyone who has touched Villanova basketball."
He was the first pick in the NBA Draft in 1950. He lived up to the billing. He averaged 17.2 PPG and was named the NBA's Rookie of the Year. The next year he led the league in scoring, at 25.4 a clip. But it wasn't just his scoring that electrified the league…it was the way he did it.
When Paul Arizin entered the league, almost every player in the NBA was still utilizing the two handed set shot or the hook shot. The jump shot had been invented in the 1930s, but it was still seen as a circus shot, and was rarely used. Until Paul Arizin came along. Arizin had developed the jump shot as a youngster. As he told the Inquirer in 1998, he learned the shot while playing intramural ball in high school, "Because they held dances in those gyms, the floors would be very slippery. I couldn't get feet set under me to try a hook shot, so I started shooting with my feet off the floor."
Other players had tried, but Arizin was the first bonafied superstar to make the primary weapon in his arsenal. Once Paul became one of the premiere players in the game, other players started emulating him, and by the end of his career, he had relegated the two handed set shot to the same dustbin that held the peach basket and the stitched basketball.
Arizin took off two years to serve during the Korean War, and the Warriors went from contenders to the laughing stock of the league. As soon as he returned, the team improved, and in 1955-56, they won the NBA title, led by Arizin's 24 PPG and 7.5 RPG.
He would maintain a high level throughout his career, averaging 21.9 points and 6.8 rebounds in 1961-62, the final year of his career. When the team decided to move to San Francisco, he decided not to make the trip, despite being the 2nd highest scorer on the team. The Philly native had been offered a job at IBM making more money than he was making in the NBA, and he decided to moonlight with a semi-pro team called the Camden Bullets. He remained in the area for the rest of his life, and passed away in 2006.
He gets to be number one on the list not only because he was one of the greatest basketball players in the history of the NBA, but because he revolutionized how the very sport was played.
**He is one of only three in the Top 50 to not have their jersey retired. The other two were Dolph Schayes and John Lucas. Interestingly, the Sixers are in a very similar situation…Schayes played almost his whole career Syracuse as a National (the current Sixers). But since he only played one year in Philly, he has been ignored by Sixers brass. I'll have another post on this soon.
---
Posted: June 2, 2011 |
Author:
Lalli
|
Filed under:
Basketball
|
Tags:
Philadelphia Warriors
,
Shaquille O'Neal
,
Sixers
,
Wilt Chamberlain
|
3 Comments »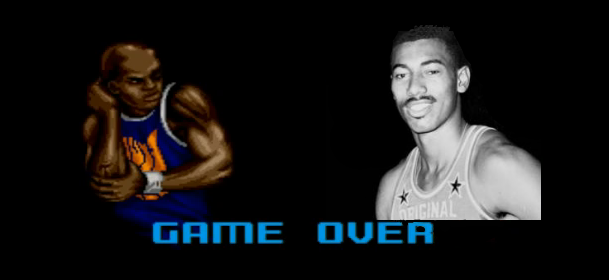 Now that Shaq has finally retired, there's going to be thousands of articles, blog posts, and stories memorializing his 19-year career.  And rightfully so.  Shaq was one of the most dominant players in the history of the NBA, period.  But, was he THE most dominating player ever?  PSH doesn't think so.  With our Philadelphia-centric slant, let's take a look at how O'Neal's career numbers stack up against Philly's own Wilt Chamberlain.
| | | |
| --- | --- | --- |
| | Shaquille O'Neal | Wilt Chamberlain |
| Seasons | 19 | 14 |
| Total Points | 28,596 | 31,419 |
| Total Rebounds | 13,099 | 23,924 |
| Points Per Game | 23.7 | 30.1 |
| Rebounds Per Game | 10.9 | 22.9 |
| Best Statistical Season | Los Angeles Lakers '99-'00: 29.7 ppg/13.7 rpg | Philadelphia Warriors '61-'62: 50.4 ppg/25.7 rpg |
| MVP Awards | 1 | 4 |
| Championships | 4 | 2 |
| All-Star Selections | 15 | 13 |
| Scoring Titles | 2 | 7 (consecutive) |
If that table isn't enough, here are some other things to think about:
Wilt has 4 of the 5 most prolific scoring games in NBA history: 100 on 3/2/62; 78 on 12/8/61; 73 on 1/13/62 and 11/16/62.  Shaq's highest output was 61 on 3/6/00. That was Shaq's only 60+ point game; Wilt dropped in more than 60 points 15 times.
If you look at the top 7 seasons for total rebounds, you'll see Wilt's name next to all of them.  He led the league a total of 11 times.  Shaq did not lead the league once in rebounds. Wilt's best rebounding game was one in which he amassed 55…and he did it against Bill Russell. In Shaq's best rebounding single game, he grabbed 28 rebounds against P.J. Brown and Armen Gilliam.
In the '67-'68 season, Wilt led the NBA in assists with 8.6 per game. He is the only center in history to lead the league in assists. Shaq's highest season APG average is less than 4.
Wilt shot 73% from the field in his last season, '72-'73. Shaq's best shooting percentage over the course of a season was 61%.
Wilt averaged 45.8 minutes per game and he did not foul out once in the course of his career.
Wilt scored 30+ points in 65 consecutive games during the '61-'62 season, including 7 straight 50+ point games.
The NBA didn't keep statistics on blocks or steals during Chamberlain's career, but if it had we can all be sure Wilt's numbers would dwarf Shaq's. The Big Dipper was a bona fide game-changer: the guy was responsible for more rules changes than anyone else in the history of the game. Like I said, Shaq is one of the most dominant players in NBA history and comparing his numbers to Wilt's shows just how special a player Chamberlain was.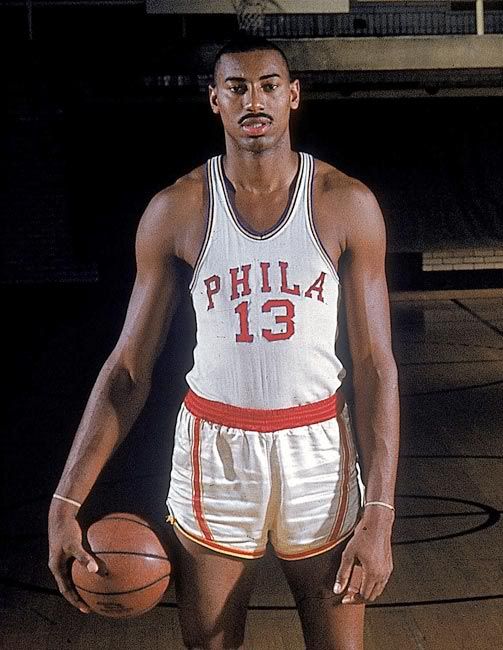 Shaq apologists always raise the competition each player faced as a reason for Chamberlain's astronomical numbers. I don't buy it. Sure, the average size of Chamberlain's opponents was smaller than those of O'Neals, but Chamberlain dominated because of his own size, speed, skill and strength. And since when does height compare to scoring dominance? (See: Shawn Bradley, Manute Bol, and George Muresan). Chamberlain played against 6'10" Bill Russell 142 times, which is a large enough sample size for his stats to mean something. During those games, Wilt had matching averages of 28.7 ppg and 28.7 rpg while Russell averaged 23.7 ppg and 14.5 rpg.
And don't assume that in their primes, Shaq was stronger than Wilt.  The 7'1″ 275 lbs. Chamberlain was a track star and devoted gym rat at Kansas.  He even worked out with Arnold Schwarzenegger in California.  He bench pressed 465 lbs. in college while Shaq could put up 450 lbs.  People talked about Wilt's strength more than anything:
The greatest play I've ever seen was one of the last games of the 1966—67 season and we were playing Baltimore. We were going for the best record in NBA history. There was a play earlier in the game where Gus Johnson had dunked one over Wilt. Gus was a very strong player. I weighed 220 pounds, and with one hand Gus could push me out of the lane. The man was a physical specimen 6-foot-6, 230 pounds all muscle. He loved to dunk and was a very colorful player. When he slammed it on Wilt, he really threw it down, and you could tell that Wilt didn't like it one bit. Later in the game, Gus was out on the fast break, and the only man between him and the basket was Wilt. He was going to dunk on Wilt— again. Gus cupped the ball and took off—he had a perfect angle for a slam. Wilt went up and with one hand he grabbed the ball—cleanly! Then he took the ball and shoved it right back into Gus, drilling Gus into the floor with the basketball. Gus was flattened and they carried him out. It turned out that Gus Johnson was the only player in NBA history to suffer adislocated shoulder from a blocked shot.    — Billy Cunningham

Once Wilt got upset with me and dunked the ball so hard that it went through the rim with such force. that it broke my toe as it hit the floor.  — Johnny Kerr

In my rookie year, Wilt was involved in a pick-and- roll play and suddenly Bill Russell was off Wilt and guarding someone else, and I had Chamberlain. Wilt took me down near the basket and caught a pass. Being the bright kid out of Ohio State I thought I was, a I figured, "No problem. Wilt isn't a good foul shooter.  I'll grab him."  Well, Wilt didn't like being held. I reached around from behind and held both of his arms. He wasn't going to let some rookie stop him, So Wilt took the ball—and me—up. He dunked the ball and I hung there on his arms, both of my feet off the ground and hanging on to Wilt's arms for dear life until he put me down.  — John Havlicek
Shaq's numbers clearly don't stand up to Wilt's.  And those who think Wilt dominated only because his competition was weak are painfully mistaken.  Shaq was great, but Wilt was the best: the most athletic and dominant big man in the history of the NBA.
---