Posted: August 2, 2011 |
Author:
Johnny Goodtimes
|
Filed under:
Baseball
|
Tags:
1990s
,
Black Landlord
,
Phillies
,
Philly Sports Memories
|
Leave a comment »
 If you're a music fan in Philadelphia, odds are you've heard of Maxx Stoyanoff-Williams. Perhaps not by that name, however. You might have known him as Madd when he was a member of the Goats in the early 1990s, or perhaps more recently as the frontman of the incredible group Black Landlord. It was while he was a member of the Goats, touring overseas, that his favorite sports memory took place. This is a pretty great story. This is Part 3 of our Philly Sports Memories Series. The first two are below, and we've got several more great ones on the way.

What is my favorite Philly sports memory? Was it watching number 45 pat his leg and throw his hands in the air after he threw the last pitch in 1980? Was it watching Mo in the final seconds slam dunk (sort of) in LA as we won the NBA Championship in 1984?  Maybe it was the most recent event, with Brad Lidge and the Phillies bringing home the title in 2008? They were all great memories.  Or do I still live with the heartache that was the Flyers in the 90's? Maybe it was the "fog bowl", when Mother Nature denied Philly a chance at the title?  The answer to the question is none of the above.
My favorite memory is the Phillies National League Championship Series of '93, one that I wasn't even in the country to witness firsthand. I was on tour for the playoffs that season, traveling through Europe with my band playing rock star. Lucky for me I had my mom.  Armed with my tour schedule and a list of fax numbers she kept my entire band and me hot with Phillies fever! We were on the road in a different foreign country and or city every day. There was no Internet access for us in Wuppertal, Germany or Marseille, France in 1993.  No one could stream highlights of the games on their phone in Brussels or their laptop in Amsterdam.  We had my mom, and she had access to a Xerox and fax machine. We didn't really have many opportunities to phone home and get updates on the Phillies quest for the pennant as we were broke and per diems were low.  So it was beyond amazing when we received the first of many Daily News articles complete with front and back page photos.  She would also send the Inquirer's sports pages to complement the coverage.
After each fax arrived, it was neatly folded and tucked into a manila envelope with my name written on it in large letters,  "MAXX," by each venue's manager. We would then take turns reading the articles and reliving each moment just as if we were at the Vet holding our breath with every pitch.  It was immediately after that when my mother was decreed the "coolest mom ever" by not only my band but by the other American band we were touring with. (She would eventually be the person that mailed me VCR tapes of the Eagles and Sixers, while I was working on a record in Brazil for three months. Oh, and she had to have those tapes converted so that they could be viewed in proper format.)  There was so much anticipation as we would arrive at a new venue or in a new city during those days.  Normally the first question you ask when you arrive at a new venue or club is, "Where's the good bathroom?" Now we asked, "Is there a fax for Maxx?" Reading those faxes made us feel like we were in Philly. So when we received the fax after game 6, we went nuts! We beat the Braves! We finally beat the Braves! We were in the World Series, and I was on my way home, hoping to watch the Phillies win the World Series.
PART ONE: Phillies Nation writer Nick Staskin talks about his favorite memory.
PART TWO: CSN's John Finger recalls a few of his favorites.
---
Posted: July 29, 2011 |
Author:
Johnny Goodtimes
|
Filed under:
Baseball
|
Tags:
Cowboys
,
David Cone
,
Iverson
,
Phillies
,
Philly Sports Memories
|
Leave a comment »
Here's Part 2 of our Ongoing Segment called Philly Sports Memories (To read Part One, from Phillie Nation's Nick Staskin, click here.). Today we hear from John Finger, who has been writing about the Phillies for Comcast SportsNet since 2000, and has been a fan since way before that. He grew up in Lancaster, and was a fan of  the Phillies as a kid. He has been on hand for a lot of the biggest moments in Philly sports history, as well as a few big moments in Orioles history. Here he discusses a few of his favorites. You can read more from John on his blog, Finger Food. 
When you write about sports for a living, oftentimes extraordinary events are just another day at the job. For instance, after Roy Halladay pitched the second no-hitter in postseason history, I spent my time after the game talking to the vanquished Cincinnati Reds. Moreover, it seemed as if they were more awed than humilated.
I also saw Allen Iverson pour in 47 points in a Game 7 of the Eastern Conference Finals as well as Michael Jordan's very last NBA game and just the second World Series title by the Philadelphia Phillies.
Those definitely stand out.
I saw "For who, for what," and the 4th-and-1 play against the Cowboys.
However, baseball games always seem to resonate a little more and usually it's the last games of the season.
To me, there has always been way too much aggrandizing about Opening Day in baseball. Opening is just the first of 162 and rarely has any true impact on the season. Better yet, unless it's totally extraordinary, Opening Day is never memorable.There is no significant action.
But the last game of the season –- that's when the memories are made.
Game 162 is the time for heroes and for the real pros to step into the spotlight. Even when teams are just playing out the string, the last game of the year is like running that final 385 yards of the marathon. Anybody can do the first 26 miles, but it's that last stretch where legacies are defined.
As a kid I also romanticized about the last game of the year and suffered the wide-eyed, Field of Dreams-types during Opening Day. I was more interested in the guts of the action and not the first few easy strides of the race, which meant I spent all summer figuring out what it was going to take for a team to make the last day the most important one.
Sometimes I got lucky, too. I can recall being at the Vet for Game 162 in 1991 when David Cone of the Mets struck out 19 against a Phillies club that featured Doug Lindsey and Braulio Castillo. In fact, Cone had a shot to tie the all-time record for strikeouts in a game after he whiffed the first two hitters to start the ninth inning. But Wes Chamberlain doubled and Dale Murphy – a player who lead the National League in strikeouts three times and ranks 13th on the all-time whiffs list – grounded out to end the season.
The Vet seemed empty that day with most of the crowd holding Walkmen to listen to the Eagles' early-season loss at Tampa Bay with Brad Goebel at quarterback, but when Cone had a chance to tie the record it was the loudest the fans were all day.
Here is the box score from that David Cone game. And here is a short writeup about the game. Interestingly, the Phillies made a run at Cone in December of 1992 when he was a free agent, but he turned down their 3 year, $15 million offer to go to the Royals for 2 years and $10 million.
---
Posted: July 21, 2011 |
Author:
Lalli
|
Filed under:
Baseball
|
Tags:
1990s
,
Curt Schilling
,
Greg Maddux
,
Nick Staskin
,
Philly Sports Memories
|
Leave a comment »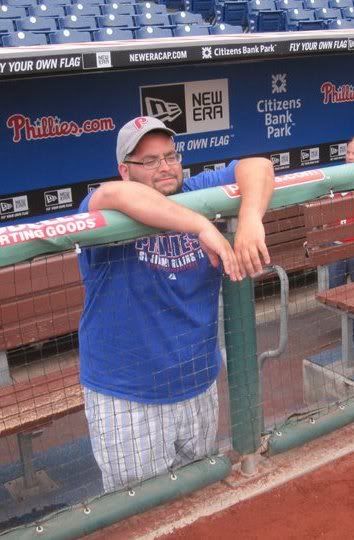 There's nothing like watching professional sports when you are a kid.  The players are larger than life and the things they do on the field are seemingly impossible. They simply do no wrong.  Before we were old enough to know about PEDs and DUIs and all the other off-the-field crap that grabs more attention than their actual play, these athletes were our heroes.
That's why childhood memories of our favorite players or favorite teams endure long into our adult lives.  We hold on to the nostalgia of the way we saw the game when we were young because everything having to do with sports was so pure.
With that in mind, we've reached out to local sports reporters, bloggers, and personalities to see which of their childhood sports memories have stuck with them more than all others.
The first contributor to our series is Nick "Beerman" Staskin (pictured). When Nick isn't serving fans Miller Lite in left field at Citizen's Bank Park, he's writing for the excellent Phils blog, Phillies Nation.
Nick's response:
The memory that most sticks out in my head as a Phillies fan growing up is one that really had no meaning at all. When I was 14 years old, my dad took me to an early April game against the Atlanta Braves on a cold night. The reason? Curt Schilling was going opposite Greg Maddux.
The game took exactly two hours to play and ended when Mike Lieberthal scored Greg Jeffries on an RBI single in the 9th inning to give the Phils a 1-0 win.
Schilling and Maddux did not disappoint. Maddux went eight innings surrendering no runs and only five hits, but Schilling one-upped him throwing the complete game shutout while striking out 10 and only allowing two hits.
Being there with my dad to watch two of the best pitchers of that era duel like that is something that I'll never forget, and the reason I can't wait to raise a baseball fan of my own one day.
The game Nick remembers most took place on April 10, 1998.  You can see the boxscore here.  It was actually the second time that week Schilling faced Maddux. Just five days earlier, Schilling struck out 15 Braves en route to a 2-1 complete game win over Maddux in Atlanta.  Schilling's stat line that week: 2 wins, 0 losses; 2 complete games; 1 ER; 25 Ks; 6 hits; and, 2 BB.
H/T to Nick for his contribution.  He can be found on twitter here.  
---