Posted: August 17, 2011 |
Author:
Lalli
|
Filed under:
Baseball
|
Tags:
1950s
,
Alice Roth
,
Phillies
,
Richie Ashburn
|
1 Comment »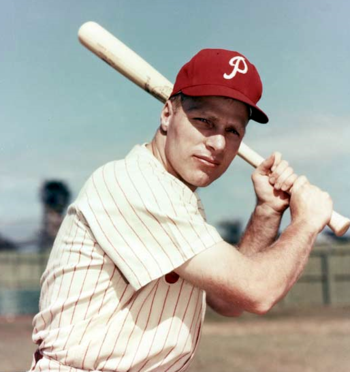 On August 17, 1957, Richie Ashburn showed the world his true colors.  Although he is universally beloved in Philadelphia for his performance on the field and the relationship he forged with fans as a broadcaster, he was actually a belligerent grandmom hater.  Just ask Alice Roth.
Mrs. Roth, the wife of Philadelphia Bulletin sports editor Earl Roth, decided to take in the Phillies-Giants game with her two grandsons, Preston and Tom, at Shibe Park.  She and the two young boys were seated in the press box behind third base when Richie Ashburn stepped to the plate.  Whitey, known as one of the best pitch-spoilers in baseball history, lined a foul right at Mrs. Roth.  Unluckily, she was paying more attention to her grandsons than the game and didn't see the ball coming.  It struck her directly in the face and broke her nose.
As medical personnel rushed to take care of the bleeding and dazed Roth, the umpires called time. After she was attended to for a short while, play resumed.  The next pitch came in and Ashburn did the unthinkable: He sent another foul ball to the left side that hit Alice…while she was lying on a stretcher being carried out of the section.
For another foul ball related article, check out the story of Robert Cotter. 
---
Posted: June 9, 2011 |
Author:
Lalli
|
Filed under:
Baseball
|
Tags:
1980s
,
Beer Week
,
Richie Ashburn
|
2 Comments »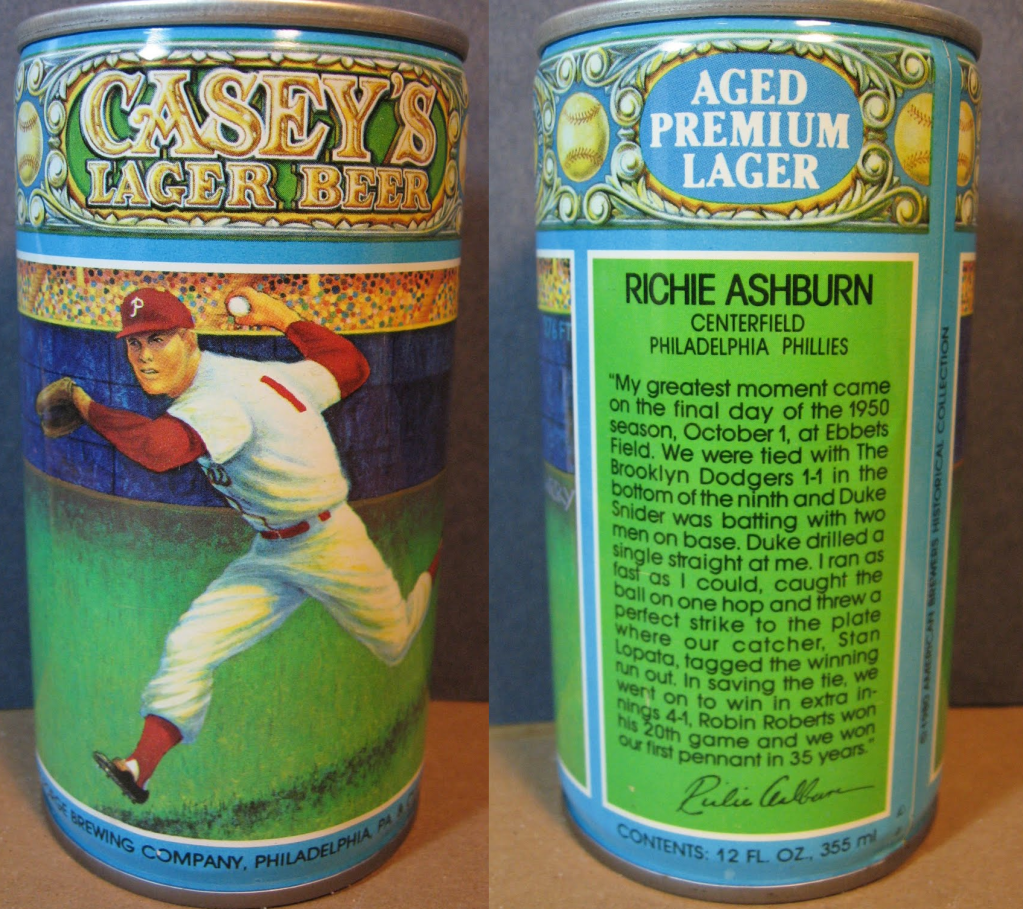 Beer Week rolls on.  We came across this somewhat ridiculous beer can featuring none other than Phillies great, Richie Ashburn.  As you can see, one side features a drawing of the center fielder, while the other quotes Ashburn on his self-described greatest moment: "The Throw."  Released in 1980 by the Valley Forge Brewing Company, the Ashburn can was one of four that featured baseball Hall of Famers.  The others were Whitey Ford, Duke Snider and Negro League star Monte Irvin.
---
Posted: May 21, 2011 |
Author:
Johnny Goodtimes
|
Filed under:
Baseball
|
Tags:
1960s
,
1962 Mets
,
Elio Chacon
,
Frank Thomas
,
Joe Christopher
,
Richie Ashburn
,
Yo La Tengo
|
2 Comments »

After the 1959 season, the Phillies decided to part ways with beloved center fielder Richie Ashburn. Whitey was shipped to the Cubs for 3 players. After a couple of years in Chicago, he was picked up by the expansion Mets, and spent his final season (1962) in baseball purgatory. The worst team of the modern era, the Mets went 40-120 that season, and the whole year was little more than a running collection of blunders, errors, and losses.
One constant source of Keystone Cop mishaps was the lack of communication between Ashburn, playing center, and the Mets shortstop, a Venezuelan named Elio Chacon. Chacon didn't speak English, so when Richie would yell "I got it! I got it!" Chacon would keep chasing after the ball and the two would inevitably collide, allowing the ball to fall harmlessly to earth. Finally, the team's right fielder Joe Christopher, who was bilingual, suggested that instead of yelling, "I got it!", Richie should yell "Yo La Tengo!" to ward off the shortstop. Ashburn and the young shortstop agreed on it, and sure enough a few games later, a pop fly went into left center, between Ashburn and Chacon. "Yo La Tengo! Yo La Tengo!" shouted Whitey. Chacon stopped in his tracks. Whitey reached his glove up to make the catch…and got plowed over by Mets left fielder Frank Thomas, who didn't speak Spanish. Whitey and Frank fell to the ground, and the ball landed between them. As they got up to collect themselves, Howard turned to Ashburn and said, "What the heck is a yellow tango?" Incidentally, Thomas was later a member of the 1964 Phillies team. Here's a great Yo La Tengo song, "Today is the Day".
---