Posted: September 23, 2012 |
Author:
Johnny Goodtimes
|
Filed under:
Football
|
Tags:
1990s
,
Boomer Esiason
,
Cardinals
,
Eagles
,
Ricky Watters
,
Ty Detmer
|
Leave a comment »
The November 24th, 1996 matchup between the Arizona Cardinals and Philadelphia Eagles was one of the most exciting games in Eagle history, featuring thrilling special teams play, two improbable comebacks, and 37 points scored in the last 11 minutes of the game.
The Eagles came into the game 7-4, but after a scorching start under coach Ray Rhodes and Ricky Watters they had lost their last two contests.  The Cardinals had won two in a row and with a 5-6 record were trying to make a late push towards the playoffs.
The first three quarters were fairly uneventful. Ricky Watters scored a TD for the Eagles in the first quarter, rookie Leeland McElroy had answered for the Cards in the 2nd, and otherwise Gary Anderson and Kevin Butler exchanged field goals. The Cards held a 16-13 lead entering the 4th, but then Boomer Esiason hit Pat Carter with a 6-yard pass to give the Cards a 22-13 lead with 10:58 left. Just over two minutes later, Ricky Watters went around right end from 4 yards out to pull the Eagles within 2.
Boomer Esiason then led the Cardinals on a methodical drive down the field and hit Larry Centers (remember how awesome that guy was on such terrible teams?) for a 4 yard score to give the Cardinals a comfortable 29-20 lead with 2:45 left in the game. Then things got crazy. Derrick Witherspoon (below right) returned the ensuing kickoff 95 yards to the house to pull the Eagles within 2. The Birds then attempted an onside kick. It went out of bounds, but fortunately for them one of their players was onsides. Due to a strange quirk in the NFL rulebook, it meant they got to kick again. This time the ball bounced out of the hands of the Cards Anthony Edwards and was scooped up by Johnny Thomas of the Eagles. He would have scored a TD on it, but
NFL rules don't allow recovered onsides kicks to be returned (boo! Lame rule.) The Eagles then moved into field goal range while running out the clock. The Cards answered by burning all 3 of their timeouts. Finally, Gary Anderson nailed a 32 yarder with 52 seconds left to give the Eagles a 30-29 lead.
The Cardinals got the ball back on the 35-yard line and Boomer Esiason went to work. With no timeouts remaining, he kept hitting receivers along the sidelines, confounding Eagles cornerbacks Troy Vincent and Bobby Taylor. Finally, with 14 seconds left, he hit Marcus Dowdell from 24 yards out to give the Cardinals the win. It was one of Dowdell's 3 career TDs. Esiason had led the team 65-yards down the field in 38 seconds with no timeouts left. It was a total collapse by Philly's secondary. Boomer ended up throwing for 367 yards that day, 180 of them in the 4th quarter.
Ray Rhodes was crushed, saying he was at "an all-time low." The defense took out their frustration on the Giants the next week, allowing an incredible 121 yards of total offense to New York. They would rally to finish the season 10-6, and lose to the Niners 14-0 in the playoffs. The Cardinals would only win one more game all season.
RELATED: Eric Allen's incredible INT return against Boomer Esiason, one of the most thrilling plays in Eagle history.
---
Posted: April 24, 2012 |
Author:
Lalli
|
Filed under:
Football
|
Tags:
1990s
,
Eagles
,
Ricky Watters
,
underrated
,
Underrated Philly Athletes
|
5 Comments »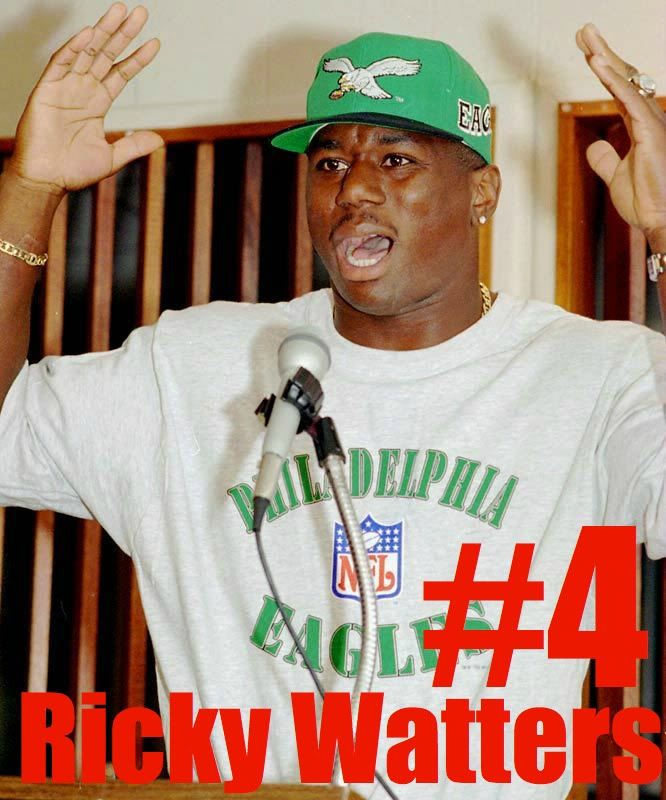 The defining moment of Ricky Watters career in Philadelphia came in his first game as an Eagle.  On September 3, 1995, the Eagles opened up the season at home against the Tampa Bay Buccaneers. During the second-half, Ricky Watters alligator-armed not one, but two Randall Cunningham passes over the middle of the field.  It didn't help that the Eagles lost 21-6, and Watters was held to 37 yards rushing with two fumbles.  Sure, Watters was booed by the hometown fans for not sacrificing himself for the team, but those boos were nothing compared to the aftermath of Watters' postgame comments to the media.
Watters was honest, maybe too honest:
"Hey, I'm not going to trip up there and get knocked out.  For who? For what? I mean, there's another day. I'm going to make a whole lot of plays. I made a whole lot of plays where I was at before. I've always made plays."
"For who? For what?"   Those four words damned Ricky Watters in this town.  He had committed a cardinal sin.  The fans and the media jumped on Watters.  The Inquirer labeled it "Wattersgate."  His words were spread in large print on the back cover of the Daily News.  No matter what Watters did from that point forward, he didn't have a chance to be accepted in Philadelphia as one of our "Philly guys."  And it's a shame, because his on-the-field play stood in stark contrast to that comment.
His numbers are staggering.  After scoring three touchdowns in a winning-effort for San Francisco in Super Bowl XXIX, Watters came to Philadelphia as a free agent.  It didn't take long for him to make an impact.  In 1995, he rushed 337 times for 1,273 yards and 11 touchdowns.  He also added 434 yards on 62 receptions.  In '96 he amassed 1,855 yards from scrimmage with 13 total touchdowns. In '97, he had 1,550 total yards and 7 touchdowns.  He never rushed for fewer than 1,110 yards and never caught fewer than 48 passes.  From '95-'97, he carried the ball 975 times, more than any other player in the NFL.  In '95 and '96 he was selected to the Pro Bowl team and named All-Pro.
Even though he spent just three seasons in Philadelphia, Watters ranks 6th in franchise history in rushing and 5th in rushing touchdowns.  He is the Eagles all-time leader in rushing yards per game.
Based on his numbers, Watters is clearly one of the best running backs in Eagles history.  But he didn't let his numbers speak for themselves, and so he lands on this list as the 4th Most Underrated Athlete in Philadelphia Sports History.
Previously:
#15- Byron Evans, #14- John LeClair, #13- Von Hayes, #12- Freddy Leach, #11- Brad McCrimmon, #10- Del Ennis, #9- Eddie Plank, #8- Dick Allen, #7- Kimmo Timonen, #6- Bobby Abreu, #5- Joe Frazier
---