Posted: October 27, 2011 |
Author:
Johnny Goodtimes
|
Filed under:
1911 World Series Project
,
Baseball
|
Tags:
1911 world series
,
Chief Bender
,
Connie Mack
,
Home Run Baker
,
Stuffy McInnis
|
Leave a comment »
(October 27th, 1911) PHILADELPHIA– After 5 games filled with nonstop suspense, the A's decided to treat their fans to little more than a 2 hour coronation celebration yesterday. After giving up a double and a run to their ongoing nemesis Larry Doyle in the first, Chief Bender settled down and shut the door on the Giant hitters the rest of the way. The A's meanwhile, started their assault in the 3rd inning, added some battery in the 4th, and in the 7th they flat out murdered Giants pitcher Hooks Wiltse. It was a complete and utter annihilation, and when the dust had settled, the A's had a 13-2 victory. The following prose comes courtesy of today's Inquirer:
For the second consecutive time the Athletics captured a world's championship, last fall trampling underfoot the Chicago Cubs. It was a great victory, appropriate because won on the Athletics home field and before a home crowd, and spectacular because of the concentrated attack upon the National Leaguers…Even Gotham fans, awakened by their favorites' gallant victory in New York, assembling legions strong at Shibe Park, sat back in their seats and smiled sickly. From a Giants standpoint, the defeat and windup of the Series was ludicrous. They were pigmies when facing the speedy curves of the redskin, while no Giant twirler could stay the onrushing Athletics. 
Indeed, Chief Bender added to his legend. It was believed that Eddie Plank was going to pitch this game, since the Chief had just thrown Game 4 two days prior. But while playing catch, Bender walked over to Mack and said, simply, "I'm going to pitch and win the World Series for you." As Bender would say after the game, "It's only once in a century a chap gets a chance to clinch a world championship." (Of course, if Coombs had shut the door on the Giants in the 9th inning of Game 5, it would have been twice in two years for him, as he won Game 5 in 1910). Mack knew that the Indian was ready, and made him the starter. He responded by throwing a complete game 4 hitter against this vaunted Giants lineup after only one day of rest.
The Giants continued the defensive ineptness that had haunted them all series, making 3 more errors. In their four losses of this Series, they committed an astounding 14 errors.
Jack Coombs was not at the game. His groin was so badly injured he had to go to the hospital. Connie Mack arranged for play-by-play bulletins to be transmitted as he laid in his hospital bed. He no doubt enjoyed what he heard.
Home Run Baker continued his sterling Series with 2 runs scored and an RBI. Right Fielder Danny Murphy more than made up for his poor throw to end Game 5, going 4 for 4 and scoring 3 runs. It was, fittingly, a complete team effort from the best all-around team in baseball. And there was a nice moment at the conclusion that showed just what a close-knit team this was. Stuffy McInnis had injured his wrist late in the regular season and had not gotten a chance to play in this Series. But with 2 outs in the 9th, Mack called time and inserted him into the game so that he would feel a part of the team. Bender threw to Art Wilson, who tapped it to third. Baker picked it up, fired to Mcinnis, and the Series was over. The Philadelphia Athletics were, for the 2nd straight year, World Champions.
---
Posted: August 8, 2011 |
Author:
Lalli
|
Filed under:
Baseball
|
Tags:
1950s
,
Danny Murphy
,
Elmer Valo
,
Ferris Fain
,
George Harper
,
Harry Davis
,
Irish Meusel
,
Lee Gooch
,
Philadelphia Athletics
,
Phillies
,
Stuffy McInnis
,
Ted Kazanski
,
Willie Jones
|
2 Comments »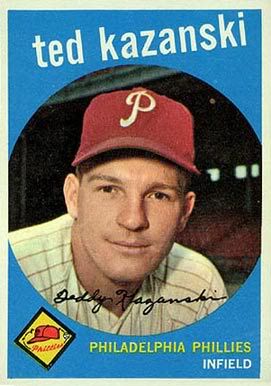 Ted Kazanski (not to be confused with Kaczynski) didn't have a stellar career in the majors.  In his six-year career, all of which was spent as a Phillie, the utility infielder batted .217 with a total of 118 runs, 116 RBI, and 14 HR.  But on August 8, 1956, Kazanski made a mark that no Phillie has since matched.
On this date 55 years ago, the Phillies were facing the New York Giants at Polo Grounds.  The Phils were up 3-2 heading into the top of the 6th inning.  Giants pitcher Jim Hearn, coaxed a leadoff ground out from Del Ennis and then gave up consecutive singles to Elmer Valo and Willie Jones.  After Granny Hamner was intentionally walked, second baseman Ted Kazanski stepped to the plate with the based loaded and one out.  Kazanski smoked a liner to the center field wall, which stood 483′ from home plate. Even with Willie Mays sprinting to the ball, the fact that Polo Grounds boasted the deepest center field wall of any stadium in major league history gave Kazanski all the time he needed to round the bases and score.
Kazanski was the 4th, and last, Phillie to hit an inside-the-park granny.  The others were Irish Meusel (1918), George Harper (1924) and interestingly one of the guys who crossed the plate before Kazanski: Willie Jones (1951).  Five Philadelphia Athletics accomplished the rare feat, two of whom did it twice: Harry Davis (1902 and 1904), Danny Murphy (1904 and 1908), Stuffy McInnis (1911), Lee Gooch (1917) and Ferris Fain (1947).
---